If your employees didn't share photos from last year's company holiday party on social media, did it even happen? Don't let your holiday party fall victim to the stereotypical "same-old-same-old" corporate gathering. From the tried and true to the new and novel, here are ten audio-visual technologies that are sure to wow guests at your upcoming party or special event.
1.Festive Lighting
Creative lighting can be used to take almost any venue from ho-hum to whoa! Even the coolest entertainment will seem business-like and sterile when drenched in the sickly glow of overhead fluorescent bulbs. You can easily warm up your space with a few strands of white string lights. If your budget allows, intelligent lighting can really set the stage for a fun and memorable holiday party. Glam up the room by lining the walls with colored UpLighting, installing motion lighting with pattern and color effects, or custom gobo projection for branding or holiday-themed messaging.
2.State-of-the-Art Sound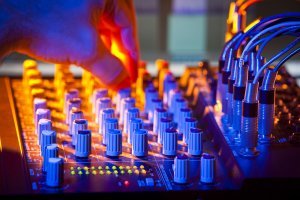 Nothing gets people into the party mood better than having them walk into a room that's pumping the latest beats. Whether you hire a DJ or live musicians, or are planning to use a smartphone app to create a playlist, you won't get people out of their seats and dancing without a great sound system. For best results, partner with a good AV rental company that will design an audio package complete with delivery, setup, and support.
3.Karaoke
Inevitably, your guest list will be a mix of people who love to be the center of attention and others who love watching them. Karaoke has long been a crowd-pleaser because it appeals to both personality types. Liven up your party by getting everyone to sing and sway along with their favorite tunes and have a few laughs along the way.
 4. A Giant iPhone
Smartphones are the number one way people take and share photos, so why not have a giant one at your party? The Giant iTab displays content and runs apps just like an everyday smartphone, so guests can all gather around and have fun interacting with a piece of technology they're comfortable with.
5. Video Booth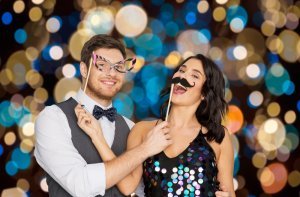 Photo booths are always a hit, but why not go for the unexpected with a video booth? This high-energy alternative is a great way to create highly shareable content. You can have guests answer holiday-related questions, or encourage them to let loose by posing with props, dancing, or singing along to music.
6. Virtual Reality
Everyone loves a virtual reality experience, especially one their coworkers will be talking about long after the party ends. VR booths bring people together to experience something completely unique. Guests can be at the center of the action in an endless array of games and activities – they may even find themselves skiing the alps or ice skating through a winter park!
7.  Graffiti "Wall"
Here's your chance to find out which of your coworkers has hidden artistic talents and who should stick to their day job. Employees and their guests can become virtual street artists with an innovative touchscreen display. Microsoft's Surface Hub can accommodate up to 100 points of touch, so 10 people can simultaneously unleash their creativity with festive drawings and messages.
8. Make it a Movie Night
If you're looking to plan a more low-key but still entertaining party, turn your space into a movie theater showing a comedic holiday favorite such as Planes, Trains and Automobiles or National Lampoon's Christmas Vacation. You can rent cinema-quality projectors and screens and add some candy and popcorn stations for authenticity.
9. Let it Snow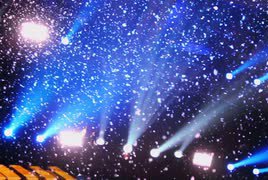 A snow machine is the perfect way to surprise guests by turning your venue into a winter wonderland. The machine can be mounted on a tripod stand or hung from a truss system to bring a blizzard of fun to your dance floor.
10. Customized Hashtag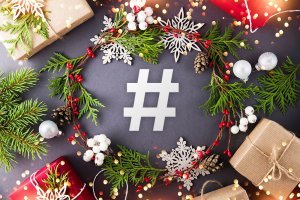 A customized hashtag is a trendy yet practical means of giving party photos their own page while also drawing attention to your business. The trick is to come up with something that's clever and easy to remember, so guests can instantly add it to their posts before sharing.
Incorporating one or more of these ideas at your corporate holiday party or gala will surely generate some serious FOMO (that's Fear Of Missing Out, for those who don't know) among employees. The best move you can make for ensuring a successful event is to call in the experts such as SmartSource Rentals. Our professionals can help you implement the best audio/visual technology for your budget, making your party an experience guests will be talking about all year long.