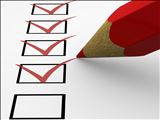 If you are the typical exhibitor, you probably have your trade show calendar planned out for the next 12 months. As you and your team gather to talk about the logistics of your shows, it occurs to you that things need to change due to tightening budgets and ROI demands.
Today's blog will focus on 10 ways to turn attendees into prospects and hopefully customers – before, during and after the show.
BEFORE
Understand who you are targeting.

Let's face it: Not every attendee at the show fits your ideal client profile. So instead of mass communicating to everyone, try and focus on the attendees who actually have the authority to buy your products and more importantly have a need for your company offerings.


Do the opposite.

Most exhibitors spend time and money sending out a general email and direct mail piece to everyone coming to the show reminding them to stop by Booth #123. Use social media and telephone calls to invite that targeted list to your booth and give them a reason why they need to do so.


Spend time planning for your interactive technology tool rentals and securing the right staff.

Often times technology and staffing are figured out late in the show cycle process. Take the time to understand all the technology offerings and how they can enhance the attendee experience. If you rent iPads, they can serve as a digital document library for all your marketing materials, a portable kiosk when staff is busy or a way attendees can stay connected on their social channels.

DURING
Bring staff that are friendly and engaging.

The last thing you want at your next show is to have individuals who are not inviting people into your booth space, are busy with their smartphone or talking to other exhibitors.

Hire people who smile and are customer focused.


Have individuals in your booth who really understand your products and services.

The thing people crave for is more information about your company. It behooves you to have the right staff in the booth who really understand and can demonstrate the benefits of your offerings.

Create a recharge area.

Rent a charging station, set up comfy chairs and let attendees "take a load off" while their mobile devices charge up. This is a great opportunity for you to take the lead to encourage networking among the folks that are there and/or ask them qualifying questions.


Capture all leads.

This is the year of technology and no leads should be missed! Consider investing in a lead retrieval system where you can automatically scan an attendee's badge or swipe a card and then get down to the business of finding out how you can help them.
AFTER
Make it a policy to follow-up with 100% of the leads within 72 hours of the show ending.

That old saying "strike while the iron's hot" has never been so true when it comes to trade shows. If you uses an automated lead system, you can write notes and disseminate leads while the show is still in progress.


Continue to follow-up.

Research says it takes 7-10 touches before a lead becomes a customer and yet, most organizations give up after 4 attempts to close business. Keep trying and keep involved in all measures of communication including digital and non-digital methods.


Track trade show business.

This year, know how many leads and clients actually came from each show so you can turn to your boss in twelve months and say "this show cost us nothing, it actually paid for itself two (or whatever it is) times over!
SmartSource Rentals is a total technology solutions provider and a preferred vendor at many trade shows.