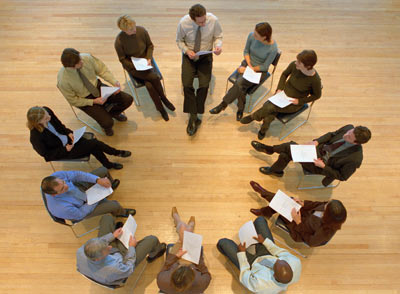 Icebreakers are a great way to help set the tone for a meeting or event, especially when you have a lot of individuals in attendance that do not know each other. Icebreakers help participants to relax, get to know each other better and create a team environment.
The key to a great icebreaker is the content and the timing. It needs to fit the demographics of the group and it can't be too long or too short — it needs to be just right.
Here are four ways to break the ice:
1) Pass out a piece of paper to each attendee. Post on a PowerPoint slide the following question:
What is your favorite:
season
animal
restaurant
TV Show
hobby
color
Have attendees write their answers to each of the questions listed above. Then, ask them to find someone in the room they do not know and trade papers. Allow for a 5-minute discussion among participants. See if they have anything in common. As the event organizer, ask participants to share their responses if they would like to do so.
2) This icebreaker needs to be put together beforehand and works well in a small to medium-sized meeting. Ask everyone to submit a photo of themselves as a child and ask them to answer the following questions:
Favorite Dessert:
Favorite Sport You Play or Played:
Favorite Movie:
Favorite Car:
Favorite Vacation Spot:
​Their responses along with their photo can be displayed on a PowerPoint slide and projected on plasma rentals set up around the room. Each person in the meeting has a sheet of paper in front of them with the possible answers. Each slide is numbered, and attendees can work individually or in small teams. They only have 1 minute to guess who it is and then, they move onto the next slide. The person or team with most correct answers wins a prize.
3) This idea is great for a sales meeting. Have a slide for each participant in the room which contains an ordinary object and number at the bottom right corner. For example, if you have 30 people you would have 30 numbered slides with a photo of a common object, such as a cell phone, chair or car on the slide. Give each attendee a random number at the beginning of the meeting. Once the assignments are distributed, each person has 5-minutes to work on their sales pitch and deliver it to the group in 2-minutes or less. Tell them to use their creativity and make it fun…the sky's the limit.
4) If you are looking for something light and motivational, create a series of slides with motivational quotes, but do not list the author. This exercise can be completed individually or on small teams. The facilitator can read the quote aloud and give attendees 15 seconds to record their answer (or use audience response system rental to have them vote electronically, picking from a set of choices). At the end, go back through the slides and identify the person who wrote it. The person or team with the most correct answers wins a prize.
AV Event Solutions, now part of the SmartSource Rentals family, has the presentation services equipment that will make your icebreakers melt the audience! Give them a call at 888.249.4903 to get the process started or fill out an express quote.