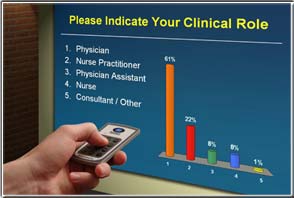 Almost every planner I know, tries to effectively read the pulse of their audience — whether it be through paper and pencil surveys, observing body language or responding to complaints. We want to keep our attendees learning and happy. But in today's digital world, are surveys even relevant? Won't attendees just let you know how they feel?
To learn more about what the participant wants and whether or not you met the mark, intelligent surveying needs to be completed. Christopher Korody, Partner at Audience Metrix, recently shared with BizBash some of his ideas on ways to effectively poll attendees. Today's post is dedicated to co-mingling his ideas with a few of my own.
Here are the tips:
Tip #1: Several months before the event, identify your attendees' goals and structure content around it.
Find out what topics, subjects and speakers your audience is craving to learn more about. This can be completed by creating an online community, dedicating a space on your website or asking for input via Twitter.
The intent is to crowdsource the agenda so attendees obtain the content and presenters they want. In addition, Korody points out to remember about networking. Many times the attendee's major goal is to network with as many individuals as possible.
Tip #2: Complete a "pulse of the event" survey (with the same questions) to see if you moved the needle.
Korody stated that individuals come to your conference with a preconceived mindset about your event, products and even, you. Via wireless audience response systems, ask the same questions at the beginning, end and throughout the conference. Here are a few to consider:
As right now, has the conference met your expectations?
As of right now, have we delivered the content the way you want it?
As of right now, did the description of the conference match the content you received?
Have we made good use of your time?
On a scale of 1 to 5, with 1 being don't know at all to 5 being know very well, please rate how well you know our organization.
On a scale of 1 to 5, with 1 being not relevant to your job and 5 being very relevant, please rate the content of the conference.
In addition, if this is a training seminar you can pre- and post-test the knowledge level of the audience to make certain your trainer met all the company's learning objectives.
Tip #3: Dig deeper with open-ended questions.
By providing computer kiosks on the conference floor or by polling via mobile devices, you can ask attendees deeper questions that allow them to tell you know how they really feel. Here are a few conversation starters:
What do you wish you had more time to do?
What session could have been shorter? Longer?
What was the best use of your time and why?
Tip #4: Evaluate all your speakers and sessions and only your speakers and sessions.
Surveying the room, food and other amenities at the conference is nice but it isn't going to help you create great content for next year's conference. Leave the meeting room temperature and layout to the Twitter feed.
Every presenter and topic should be duly evaluated and it is best to have attendees complete this eval on-the-spot when it is fresh in their mind.
AV Event Solutions, now part of the SmartSource Rentals family, has Audience Response rentals, computer kiosks, iPads and much more for all your meeting and event needs. Give them a call at 888.249.4903 to get the ball rolling!