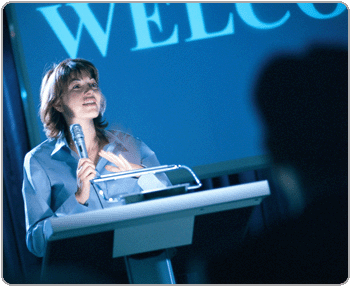 Are you a trainer or speaker working on refining your presentation skills? This is the time of year most speakers and facilitators go into over drive with association conferences and
corporate meetings
. Here are
some tips and techniques to improve your presentation skills
if you are a speaker. If you are in the event meeting services industry, these tips will help you better communicate with each presenter.
#1: Start by learning what the attendees want.
Why are they attending your session? Find out what sort of sessions were offered at last year's conference and read the attendee comments of those similar to your presentation. As an event organizer, survey the attendees about their desires several weeks before the session starts, and forward those needs, wants, and comments to your speakers. This will give them ample time to re-write and prioritize their presentation.
#2: Really understand the corporation or association. If it is a corporation you are speaking to, find out as much as you can about the audience; their knowledge on the topic, are they passive or inquisitive, and the best way to present the information to them. With an association, it is so important to understand the demographics of the membership and their learning style. Meeting planners need to convey all this information to the speakers, so they again can tailor their presentations to the learning style of the audience.
#3: Rehearse your presentation over and over again, but be willing to abandon it at a moment's notice. The Powerpoint presentation equipment is all set up. The mics have been tested. You know your presentation…COLD. You are a subject matter expert and it shows. However, today's audiences are looking for the ability to dialog with the speaker. You may only get to slide 5, but that is okay if the audience is with you. Give up control and let them drive the ship. After all, the attendees have paid great money to hear you speak. Now let them go where they want to go.
#4: Record your presentation. Listen to the playback and make corrections on pronunciation and delivery. How do you sound? Confident? Shaky? Do you sound professional? Listen to it at least on 3 different occasions and make notes. Adjust your presentation accordingly. As event organizers, consider renting recording equipment that can be easily transferred to a USB for the speaker. This can be a great parting gift for them.
#5: Answer questions immediately or be willing to follow-up within a reasonable time period. The beauty of recording the presentation is, the speaker can go back and listen to the question if they need some clarity. Again, with #3, answer the questions if you know the answer. But if you don't, tell the truth and say "I don't know the answer, but may I get back to within 5 business days?" And then GET BACK TO THEM. Attendees love follow-up, don't disappoint.
Are you event planning in California and in need of presentation services audio visual equipment? Contact AV Event Solutions, your one stop audio visual partner! They have ample LCD projector and screen rental units, PCs, and recording devices! Give them a call today!