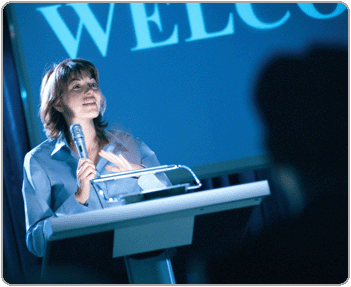 The Global Cold Chain Alliance (GCCA), a recognized authority in the cold chain industry where every product retains quality and safety, holds several conferences throughout the year for its members. Rather than having each presenter come up with their own PowerPoint that could be full of problems for attendees, they have become proactive and give their speakers a template to follow that is customized for every program.
They recently shared in PCMA's Convene the following tips that work best with presentation services audio visual equipment.
Here are the tips you are welcome to provide to your speakers:
Tip #1: Simplicity is a Beautiful Thing.
A good rule of thumb is 50 words or less on a slide. However, I believe the fewer words,the better. Keep only the text on the slide that will remind the presenter what they need to cover. Reading a slide is a big "no-no".
Tip #2: Choose Legible Font Styles.
Clear, large font types, such as Arial or Tahoma, work well in most room settings. GCCA recommends a size of at least 18 points while Guy Kawasaki states the minimum should be 30. Know the room set up and make certain the person in the back of the room can view the presentation with ease.
Tip #3: Keep Fonts Consistent.
Don't start out with one font and then move to another and yet another on every page. You can have a different font for the title versus the body but keep those font choices consistent throughout the presentation.
Tip #4: Make sure the Font and Background Colors don't Clash.
Chose colors that compliment each other and are easily visible. Putting a yellow font on a white background won't work; but that same text color on a black background will pop.
Tip #5: Photos Should be Proportional.
If you add photos to your presentation, go to the Picture Tool tab and re-size the height or width on the top right part of the page. If you choose to re-size the width, the height will scale automatically. Try and standardize on the same width or height for each photo throughout the presentation.
Tip #6: Use Video and Sound.
Save all your video and sound files within the presentation. It is very important that you work with an onsite AV Technician to make certain the right speakers are available to project the sound to the audience. Without the proper sound system, your video is useless.
Tip #7: Compress Your Files.
Make certain to compress your videos and photos before distributing your content to conference service organizers. This will allow them to easily load your presentation if they rent iPads for attendees.
Tip #8: Rehearse Your Presentation at Least Once.
Before you deliver your presentation to the audience, meet with the AV technician to run through your talk from a sound, lighting and timing perspective. Even though you have given your presentation several times, you haven't delivered it in front of this audience or using this venue.
SmartSource Rentals is your one-shop stop when renting audio visual equipment. With 20 locations to serve you, they have a plethora of presentation services audio visual equipment for your next meeting or event!