Charging stations are one of the most in-demand amenities for conferences and events. After all, there are only so many wall outlets to go around and not every attendee brings a charging cable with them to the event. But, charging stations do much more than charge electronic devices. They add value in lots of settings.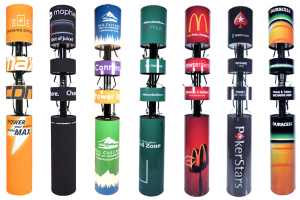 Charging stations – also referred to as charging kiosks, come in a variety of sizes and shapes (including secure lockers). They are equipped with all of the connectors needed to accommodate popular phone models and tablets. Many units can be branded with logos and messaging, and some come with embedded video screens that can be Internet-enabled.
Attendees always respond favorably to the availability of charging stations – it saves them from having to schlep back to their office or hotel room for a charge. But the advantages can work both ways. Here are three ways organizers can use charging kiosks to improve the attendee experience and keep them engaged:
Of course charging kiosks are the best way to keep attendees from leaving your event to charge their devices. But they are also a great way to keep attendees engaged during that sometimes awkward period while they are waiting for their device to charge. Many meeting professionals use charging stations to provide event information, site maps or product demos. Charging stations can also serve as a vehicle to gather information through interactive displays, which are perfect for surveys, opinion polls and games that generate business intelligence.
The interactive capabilities of some charging stations go beyond polling or touch-screen surveys. Some models have a display that can also stream a live feed. Throw a comfortable sofa in the mix and you've just created an informal relaxation station, where attendees can watch a live feed of the conference keynote address being held in another room; or you can stream a live industry news feed to keep attendees current.
Charging kiosks can also help event organizers distribute visitor traffic. While food and beverage is a time-tested way to draw attendees to a poorly trafficked area at a conference, charging kiosks may be even more effective because they facilitate engagement and opportunity.  For example, you can manage or redirect traffic with strategic placement of Charging Stations, ultimately creating an even flow of traffic throughout!
The hallmark of great technology isn't complexity. Great technologies are those that deliver the greatest value to the most people. Charging kiosks fall easily into that category, and their chameleon-like features deliver benefits that are hard for planners to ignore.
Choose the right charging station for your event. Click here for a comparison chart.