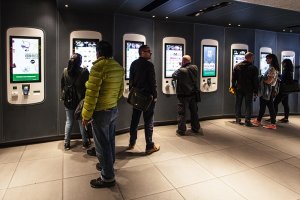 Self-service digital kiosks are everywhere these days. They make it faster and easier to do things like withdraw or deposit money, order a train ticket, print a boarding pass, check out groceries, and so many other daily tasks once associated with long lines. Digital kiosks are so useful that it's no wonder they've become one of the best interactive tools for elevating events and trade shows.
Kiosks are an automated, user-friendly way to promote business and interactively connect event attendees with information. Their flexibility allows organizations to tailor messaging, deploy new content on the fly, and make adjustments without incurring major printing costs. They can be configured to answer common questions, display slideshows, demonstrate new products and services, or provide training. Kiosk monitors and bodies can even be customized and branded with company slogans and logos. And kiosks are an effective solution for providing analytics, organization, and security while requiring minimum setup and take down.
But with so many kiosks available for rent, how do you choose the right ones for your event?
Well, that depends on your event and kiosk goals. Let's take a look at some of the most popular uses and applications for digital kiosks in today's event environment, as well as which types of kiosks are ideal for each scenario.
Self-Service Registration
Fast, no-hassle registration and admission sets the tone for a successful event. Attendees appreciate the ability to immediately access their accounts, receive tickets or badges, and be on their way.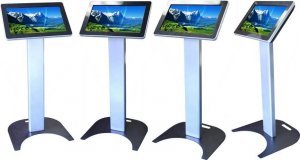 Podium Kiosks make excellent self-registration systems, and additional modules can allow for on-site badge printing, barcode scanning, customized agendas, schedule printing, and visitor guides. Many podium kiosks even have 45-degree-angled screens for user privacy. Podium kiosks can also be used for a wide range of other applications, such as cyber cafés, speaker podiums, e-literature solutions, and gamification applications.
Digital Signage, Sponsorship, or Event Promotion
If you're looking for digital signage, sponsorship, or event promotion that creates a memorable, engaging experience, you should consider today's ultra-thin, Ultra HD 4K Display kiosks such as the Innovate 58" Digital Kiosk.
The kiosk's content can either be powered by a local PC, networked PC, or another device that facilitates remote content management. Ultra HD 4K display kiosks are also the perfect size for e-literature, interactive poster sessions, product launches, and other interactive content.
Sitemaps and Location Stations
Wayfinding is crucial for helping attendees of events, conventions, trade shows, meetings, and conferences get to the people, events, and locations they want to reach. A touchscreen kiosk is a user-friendly, interactive tool that can serve as a welcome station providing the sitemaps, navigation systems, exhibitor lists and locations, schedules and agendas attendees need to find their way.
Presentations and Entertainment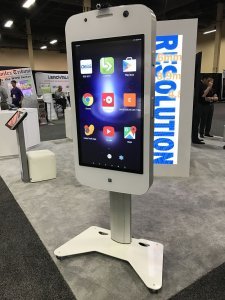 Planning on presenting an app, mobile website, product selector guide or configurator, or photo gallery?If so, the unique Giant iTab Kiosk is a great choice. This kiosk's ability to run apps also makes it ideal for experiential marketing purposes or social media lounges, as it generates a focal point that allows people to gather round one device and all interact with it with the same look and feel of the familiar mobile devices of today. Attendees can also use the kiosk to shop, receive free materials, view and accept promotions, enter contests, listen to music, or watch videos.
If you're looking to add digital kiosks at your next event, SmartSource Computer & Audio Visual Rentals can configure an interactive kiosk rental package to meet your exact needs.