The vast number of technology choices you now have to enhance your brand and exhibit booth at events means that with the right choices, you can make more impact than ever. To make the right technology choices, you should select tech solutions that support your specific company goals.
At SmartSource Rentals, we've been providing rental products and services for trade shows and professional conferences for over 30 years. So we know exactly how important your ROI is, and how vital it is that the technology you choose supports your unique goals.
To measure your ROI for an event you might look at:
Booth traffic
Closed sales or signed contracts
Increased prospects in database
Qualified sales leads
Increased distribution partners
Technology is an integral part of allowing you to track and measure your event ROI.  That's why, in this series, Easy Event Technology to Boost Your ROI, we're linking up technology with specific event goals so you are able to make better choices on which equipment to rent to get the maximize return on your investment
For this article, Part 3, we're focusing on using technology to meet the goal of expanding your customer base.
Event Goal: Expanding Your Customer Base
Growing your customer base is one of the primary reasons to attend live events and tradeshows. And the secret to success in gaining more customers lies in getting them to take an interest in your company, and then interacting with you on some level. We're not talking about that all too common surface interaction where someone walks by your booth, says hi, picks up a brochure, and then quickly moves on. We're talking about true interaction, either through an actual conversation with you or your staff, or via the technology you have: the type of interaction which allows a potential customer to see just how much your product or service can improve their life or business.
That deeper level of interaction is what converts potential customers into actual customers.
Digital Document Library
Digital document libraries give you the opportunity to interactively deliver content about your company, products, and services. This is a great tool for allowing a potential customer to interact in a customized way while learning about all the great things about your company that matters most to them.
Human beings love touchscreens.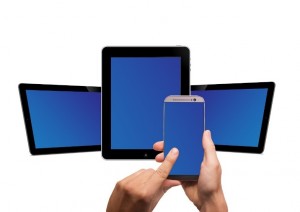 So allowing customers to access your digital document library through a touchscreen boosts the level of interaction and therefore interest.
The second part of being able to convert a potential customer into an actual customer is, of course, gathering that person's information. This is where a digital library really stands out because it's the perfect platform to retrieve those sales leads. The retrieval of this information is done automatically while the user is interacting with the library.
Items to include in your digital library to generate user interest can include:
Informational resources including product and service information
Videos, new product and other promotional trailers
Images and information that demonstrate how unique your services are
Add to cart – sell products and services right from your digital library
Lead Retrieval Systems
"When it comes to lead retrieval, there's still a disturbingly high percentage of exhibitors relying on the so-called "fishbowl method" of collecting business cards, without any formal lead form, lead-qualification system, or badge scanner." Exhibitor Online
During an event, retrieving all those valuable leads is key to expanding your customer base. Using a lead retrieval system gives you a technical advantage because you can gather everything you need just by scanning someone's bar-coded badge or a magnetic strip.
This means, your overly busy booth staff won't miss those leads. Having those in-person conversations between staff and potential customers is one of the most important aspects of tradeshows. And those conversations are what makes live events fundamentally different from online marketing.
Because it's important that every potential customer gets all the individual attention they need to make the decision to use your company, a lead retrieval system frees you and your staff from having to spend time entering all the vital information you'll need later to follow up on your leads. Advantages of lead retrieval systems for expanding your customer base include:
Data is organized so you can import to a spreadsheet or database for follow up
Generating interest with prize drawings which attendees can enter with no effort simply by having their badge scanned
You can access the data in real time allowing you to follow up on leads the same day and as we know quick follow up leads to a higher conversion rate
If you'd like to learn more about Easy Event Technology to Boost Your ROI, in Part 1 we discussed three technologies, Digital Signage, Apple iPad Stations, and Video Wall Displays, that are great for grabbing a potential customer's attention.
In Part 2 of Easy Event Technology to Boost Your ROI, we talked about how to spread brand awareness and be memorable using Sound Showers and Charging Stations.
To use our technology expertise to help you achieve tradeshow goals and expand your customer base contact SmartSource Rentals today.