Earlier this month ABCOMRENTS and SmartSource showcased some of their gaming solutions and event technology at the ESPORTS Business Summit in Las Vegas. The Esports Business Summit brings together all sectors of the Esports ecosystem for three days of networking, education, and inspiration! The power of Esports is spreading faster than a wildfire, and as a result, events as we know them need to be bigger and better.
ABCOMRENTS and SmartSource understand this unique arena and what it takes to produce large-scale gaming events that fit the bill.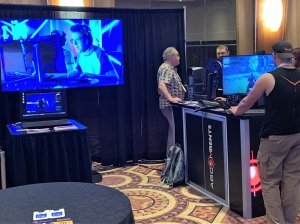 The Esports Business Summit was a prime venue to display the latest in Gaming Equipment  available for rent. From powerful workstations and 4K displays, to knowledgeable solutions architects on staff, we have everything you need to Level Up your next event.
Vishal Goyal, Director of Sales and Business Development, had this to say, "The show was a huge success, and people loved to experience our technology first hand. It's one thing to hear about what we have to offer but to actually see it and use it truly set us apart at the show!"
Learn more about how to keep up in the evolving world of Esports in our latest article Esports: The AV Industry's Next Adventure