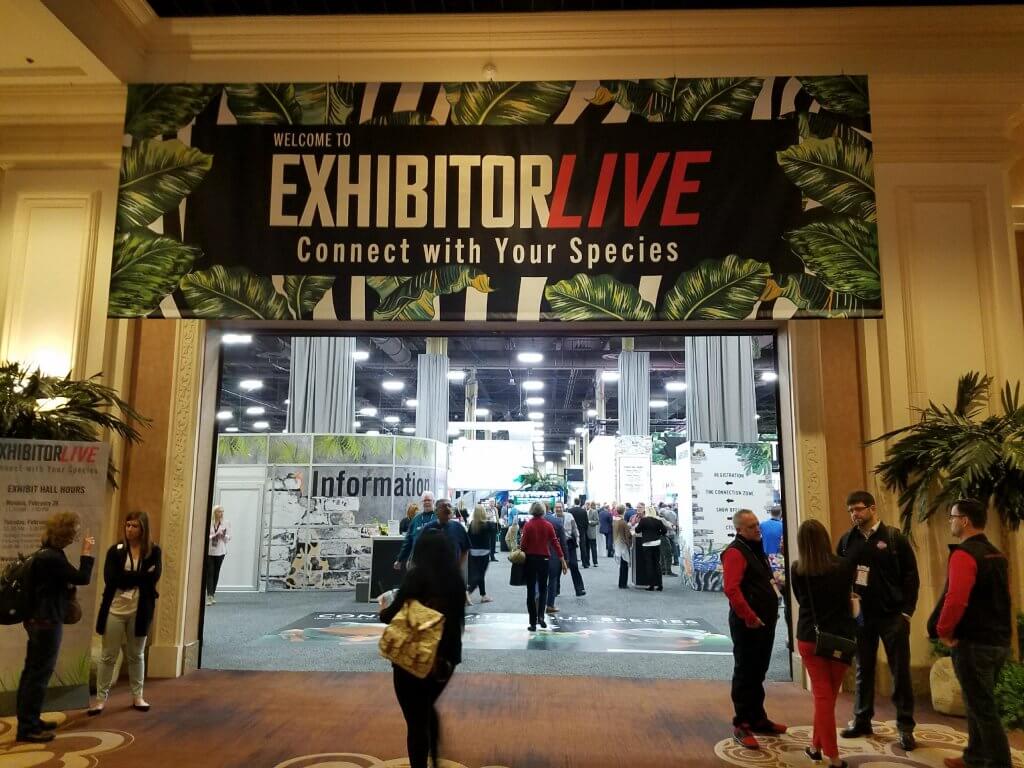 The theme for this year's ExhibitorLive, "Connect with Your Species," took engagement to another level. The annual event, which includes an exhibition of the top technology suppliers in the trade show and corporate event marketing space, wrapped up on February 27 in Las Vegas. While augmented reality, virtual reality and holograms were the stars of the show, there were plenty of other technologies on display to capture the imagination and business sensibilities of event marketers.
Enter the Future of Reality
ExhibitorLive was awash in digital realities. PeopleVisionFX demonstrated its HoloImager No-Touchscreen display that projects 3-D renderings onto a transparent 2-D surface and allows attendees to interact with animations, graphs, photos and videos via gestures that are tracked using motion sensors. The Magic Book, for example, animates pictures and allows "readers" to turn its pages using gestures. TheSpokesMannequin accurately reproduces the voice, likeness and expressive nuances of a live presenter.
Exhibitry also dabbled in augmented reality (AR) at ExhibitorLive. Its HoloPresenter adds digital objects into live presentations in exhibits, conference rooms, and theaters. Presenters use a handheld controller to manipulate AR objects—turn them in different directions or zoom in on key areas—to make presentations appear multi-dimensional. The company's HoloStory platform leverages the capabilities of Microsoft's Hololens headsets to layer videos, charts, and animations (visible only to wearers) on or around a physical object.
Remember what it looked like when crew members from the (fictional) USS Starship Enterprise were beamed aboard the ship? That's what attendees look like when they walk through a Holographic Entrance. Projected video imagery creates a light curtain through which people and moving objects appear to "materialize" as if walking through a fog. EnVu debuted the NVIDIA Holodeck™, a virtual reality (VR) innovation workspace (or playspace for the Star Trek nostalgics) that lets remote workers meet and collaborate virtually.
Light Up Your Exhibit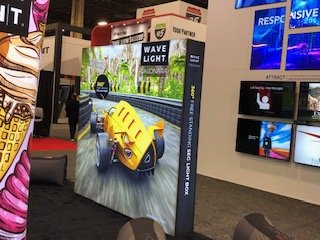 A number of light innovations shone brightly at ExhibitorLive. Makitso USA's line of patent-pending Casonara 360° Light Box Displays incorporates double-sided LED arrays to cast even illumination in any direction. The firm's WaveLight Infinity Edge-Lit SEG Modular Light Box Stands can function as freestanding or wall-mounted units and appear frameless from the front and back.
eBanners from CAPTIVA Innovations feature miniature LEDs embedded in the banner material. The LEDs can be controlled by a mobile app to produce multiple lighting effects, and a rechargeable USB battery lasts up to 14 hours (units can also be connected to a wall outlet). To enhance the functionality of the banner, exhibitors can place Near-Field Communication (NFC) tags on the banner, allowing attendees to receive digital messages by tapping their smartphones against the banner's surface. Several exhibiting companies at ExhibitorLive presented creative ways to use LED displays in exhibits and events. TLL Top LED Lumination demonstrated how LED screens can be used as stand-ins for almost any surface—walls, ceilings, even floors.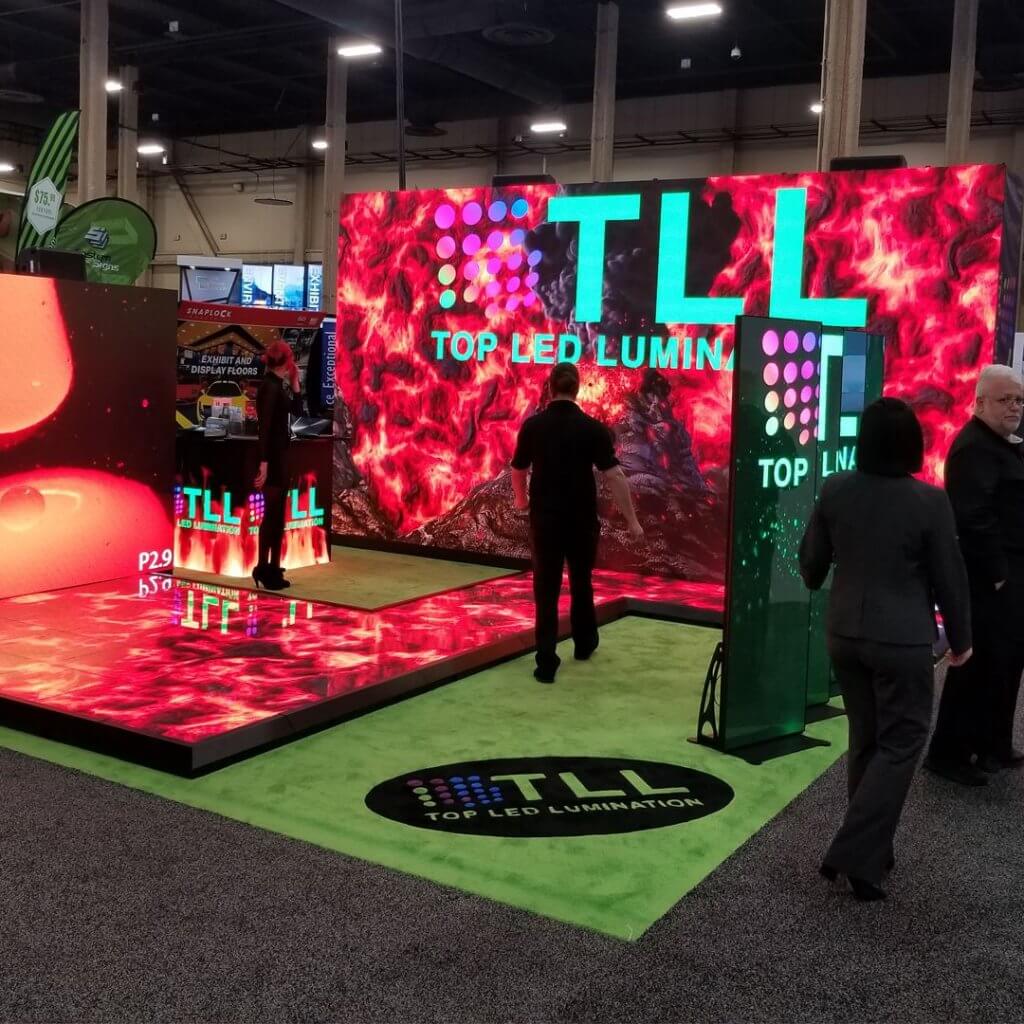 SmartSource Computer & Audio Visual Rentals gave booth visitors a tour of the beMatrix LEDskin in which multiple video screens are embedded in the exhibit backwall to project a seamless edge-to-edge image.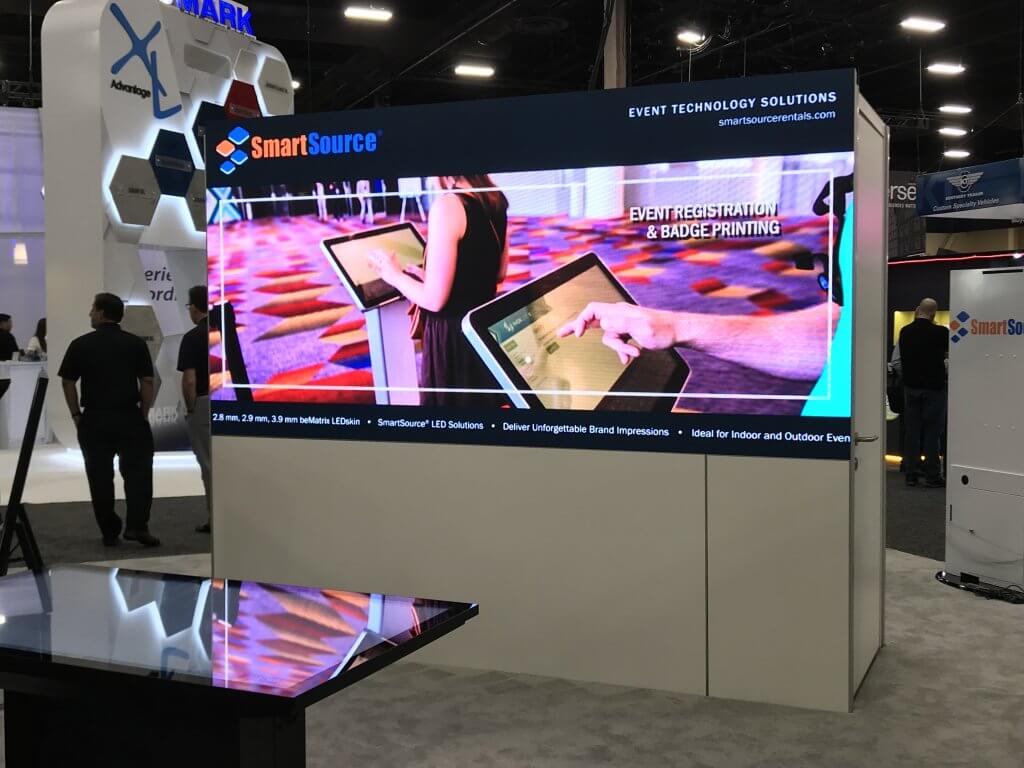 Follow Up with Prospects
Lead capture software has always been a large category at ExhibitorLive; In 2019, that hasn't changed. The featured solutions ranged from AI bots to trivia games, for example:
Manage Show Details
The work required to participate in a trade show can be daunting. Luckily, software makes the job a little easier and ExhibitorLive offered up several good options. EventGeek is project management software that helps corporate event managers handle the diverse portfolio of events in which they participate. WorkTrip combines all the details of the event and travel into one mobile application and Jifflenow simplifies the scheduling and tracking of one-to-one sales meetings during the event.
SmartSource was in the thick of it all during ExhibitorLive 2019. Contact our team of event experts with questions on how to outfit your exhibits and corporate events with the latest technology or request a quote today.