Technology is the name of the game for this season and beyond.
The holiday season is a time of festivity, family and food. It's also a time when people use technology to create astonishing lighted decorations at home and places of business. Like all technology in the last couple of decades, advancements have been so great that you can now create light displays at home which wouldn't have been possible not long ago – and with supplies from your local home improvement store.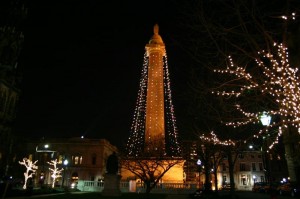 When we think about the rapid changes in technology such as lighting, it can boggle the mind.
Holiday Lights and Technology
Holiday lights first made an appearance in 1880 when Edison was looking for a way to advertise his incandescent light bulbs. He decided to display his invention by stringing up incandescent bulbs all around his Menlo Park laboratory. Passing commuters on the nearby railway could see the Christmas miracle.
Think about how advanced this was  compared to using candles as tree lights, when families would sit around the tree keeping watch with buckets of sand and water close by just in case. (Christmas Lights, the Brief and Strangely Interesting History Of)
But the influence of technology on the holidays doesn't stop at affordable amazing lighting displays. Tech influence is everywhere – in what we buy and how we buy. According to The Washington Post, Americans are expected to spend $34.2 billion on tech toys this season.
And the technology we use to purchase those toys is changing too. This year an IBM study found that for the first time ever, during the recent Black Friday weekend, more money was spent on shopping via tablets than through our desktops.
Clearly, we not only love the advancements in technology, we welcome how technology can enhance our lives and increase the ways in which we interact with the outside world.
Technology has affected everything we do, and how we do it.
The power of technology's impact is no different whether we're talking about our personal lives, or our businesses.
For example, think about the number of businesses that now exist solely because of a technology, such as the Internet:
Information marketing and education
Amazon, eBay and other online stores
News podcasts and Youtube
Technology and Events in the Coming Year
You probably experience one of more of these businesses on a daily basis.
It's safe to say that as you gear up for this holiday season and the end of this year, you'll be using the Internet and computers and smartphones to go about your life and business.
The bottom line is that technology and what we can do with it, is the ticket to creating something everyone talks about – from that over-the-top light display for the holidays, to that successful business event that delivers a good dose of wow.
As you move into the coming year and plan your upcoming events for 2016 and beyond, remember how much we all love technology and what we can do with it.
You probably already know that it's nearly impossible to run a business today, or put on a successful event, without the use of the right technology.
In fact, attempting to create an event without cutting-edge technology in today's market and hoping that it is successful, would be much like lighting up a Christmas tree with candles and hoping that it'll be just as cool as those programmable lights synced to music.
So we encourage you to go all out this season. Whether you're decking the halls for the holiday season, or choosing to make a statement in the coming year with the latest interactive technology at your next event, you don't want to leave your success to chance.
Happy Holidays from SmartSource Rentals.
You can turn to us for all your cutting-edge event technology during any season, to create an unforgettable experience for your attendees. Call us at 800.888.8686 or request a quote today.