If you are remotely as old as I am, you can remember when robot technology was introduced in the 60's, 70's and 80's. Robots were going to do everything from housework to homework. And while some of that has come to fruition, most of what was dreamed about then has not.
However, robots are still being talked about today and do play a major role in the automation of our manufacturing plants. But at events? Really? Yes! BizBash recently cited four robotic innovations to be on the lookout for and how they are being used in the meetings arena.
MantaroBot TeleMe™ TelePresence Robot
This mobile platform can be used with an iPhone, iPad or Android tablet and plug into a video conferencing application that allows live users to remotely interact with virtual ones. The remote attendees can observe participants through the tablet's camera from a height of 2-1/2 to 6-1/2 feet off the ground. They are able to view the meeting, as well as, the trade show floor. The robot controls the mobile device's movement, ability to tilt the tablet up or down via a control interface which provides a wide visual range and acuity.
3M Virtual Presenter
This holographic silhouette can be completely customizable to fit for your specific meeting needs – it can take any form and speak any language in an engaging, memorable and effective manner – and never needs a break.
"It can be activated by a
touch panel kiosk
or by a motion detector. At trade shows,
The Presenter
can draw attention to a booth while sharing useful information," stated Bill Hibbard, New Business Development Manager at 3M.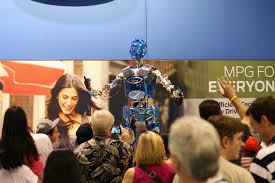 Ford Motor Company's Hank
Hank, named after Ford's founder, works in the Ford Motor Company display area when they go to auto shows. A robotics technician mans a booth just off the staging area and wears an elaborate harness of sensors and kinetic devices, which interpret the operator's body language into robotic movements.
"Hank's" role is to greet and entertain attendees, all the while, answering questions in a real-time fashion about Ford products.
Makr-Shakr
This robotic bartending system allows users to create personalized cocktail recipes through a smart phone app. The cocktail is assembled by three robotic arms, whose movements – which can be visualized through a
video wall rental unit
– mimic the actions of a bartender. Through their social connections, attendees can learn from each other, share recipes and photos. Furthermore, Makr Shakr can monitor alcohol consumption and blood alcohol levels – thus promoting responsible drinking.
Even though
SmartSource Rentals
is not in the robotic field, they are in a position to support your high-tech attractions through Plasma Displays, iPad rentals, plus sound and lighting rentals. When renting audio visual equipment, think SmartSource Rentals!