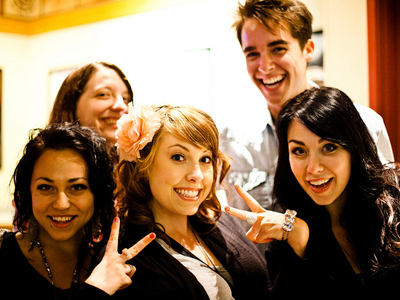 In Part 1, we shared with you the findings from The PCMA Foundation regarding the characteristics of Millennial attendees and what planners can do to reach and keep them at your meetings.
Today lets focus on the motivational and communication aspect of this special group of attendees. On a scale of 1 to 5, where 1 is "least motivating" and 5 was "very motivating", about 2,000 individuals between 18 to 30 years old were asked 25 questions about what motivated them to attend a meeting, event, or convention.
Below, are the top 5 responses for attending a meeting or event plus how event audio visual rental organizations can help draw them in.
Reason #1 to Attend: The meeting provides career networking and job opportunities.
57% of these young professionals want the ability to move their career along. The best way to do this is to network face-to-face with other seasoned professionals in their field. Another trend in the event meeting services industry is to have companies that are in the same niche as the association and who are hiring, to participate in a job fair on the trade show floor. Providing special event pricing for those out-of-work professionals, giving them a chance to network and possibly connect with future employers is huge for millennials.
Reason #2 to Attend: This is a fun, social event.
52% of the respondents said this is very motivating to them. Planners need to ask their team when putting the event together the following questions: Is our meeting fun? In what ways are we making it less about work and education, and more about networking and socializing?
Reason #3 to Attend: The convention has interesting and fun educational programs.
50% of the participants stated this is very important and it seems to be a recurring theme. Interesting. Fun. Entertaining. How are your presenters and facilitators delivering this AND showing this group they are subject-matter experts? Rent iPads to put the presentation and gaming apps into the palm of the attendee's hand and to ramp up the fun and interest in your conference.
Reason #4 to Attend: The program is about rewards and incentives.
50% found it very motivating to attend an incentive trip in which corporations or associations understood the need to "earn" a trip or feel appreciated at one.
Reason #5 to Attend: The organization offered a scholarship or financial inducement.
50% of the respondents felt very motivated to attend if there was some way to defray the cost of the program. Does your organization offer a scholarship or financial break to those Millennials just starting out? If not, you may wish to look into it if you are not attracting this segment of the population to your meeting.
Lastly, The PCMA Foundation measured the ways Millennials want to be communicated with. Here are their findings in a nutshell:
54% through face-to-face interaction

47% via e-mail

34% through text messaging

28% by way of Facebook and

28% through your website
In summary, Millennials are looking for subject-matter experts that are authorities in their field that can present material in a visual, interactive and fun way. In addition, this generational learner wants to network, feel appreciated and have content tailored to their benefit.
AV Event Solutions is your California meeting equipment partner for meetings, events, and conventions! Give them a call today at 888. 249.4903 to learn more about their outstanding offerings.