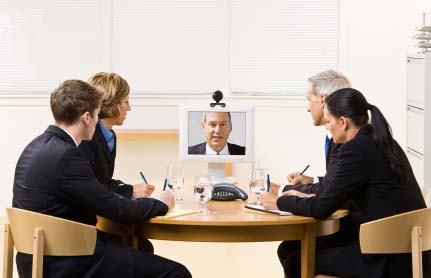 According to the May 2014 Virtual Edge Institute Digital Event Benchmark Report, hybrid and virtual events are trending upwards. This conclusion was reached by surveying 200+ event planning professionals. Below is a capsulation of that report, along with my own observations about the importance of keeping face-to-face meetings alive.
Survey Results
65% of meeting producers said their goal in producing online events was to provide education to those attendees who cannot physically attend the conference.

57% said they want to monetize their events.

35% of the survey participants charge half of the face-to-face registration fee for hybrid events.

61% of virtual producers and 55% of hybrid producers felt that virtual attendance is on the rise.

47% of digital attendees spend 1-2 hours in the event while 31% spend more than 5 hours in the event.
What does this all mean?
First, meeting planners are recognizing that hybrid and virtual meetings are here to stay. Your potential attendees are busier than ever. And when they go to your conference, the work back at the office still remains. In order to allow them to participate without the expense of travel, a hybrid offering probably makes sense to a percentage of your potential audience. But remember: this still requires ample planning on your side and you may need to explore alternative event WiFi solutions.
Second, it appears the days of free virtual attendance are over. This makes sense because it does cost money to bring this alternative to the online marketplace. Don't be afraid to charge attendees and if you are concerned about cost, work toward obtaining a sponsor for that portion of the event.
Third, while virtual and hybrid events can be part of your meeting offerings, they will never replace face-to-face events that offer networking, visual cuing and spontaneous interactions.If you need ammunition as to why you need to hold a live event, look to MPI's Meetings Move Us Forward and CIC's Economic Significance Study.
Fourth, with almost half of virtual attendees only viewing an hour or two of the conference, it looks like your general sessions are the ones that make sense to offer online. Beyond that, unless your conference is extremely technical and/or attendees need to receive the information for certification requirements, look at the hybrid experience as an opportunity to sell your live conference. They need to be there!
Contact SmartSource Rentals for great technology solutions for your next face-to-face or hybrid event!