Very few technology companies start out as mega-companies. Many start out in garages, spare bedrooms or co-working spaces. The trade show equivalent of those kinds of spaces—where ideas flow freely, but the bathroom is down the hall—is the technology startup pavilion. And this year, at the annual IAEE (International Association of Exhibitions & Events) Expo! Expo! trade show, the tech startup pavilion was, as the name implies, buzzing with energy, but spare in accouterments. Here's a recap of the lucky 13 companies hoping to bust into the big time or at least make it to the main floor next year.
Variations On An Existing Event Technology Startup Theme
If you can't be first, or second, or one-hundredth in a crowded category, you can try to be better, faster, or less expensive. For example, Velocevent is a multi-platform (including the mobile web) event app with nearly every option of the more expensive apps at an extremely affordable base price of $995. Xporience is a white-label native mobile event app that offers registration, on-site badge printing, and free customization along with a full complement of features for $1,990. Swoogo is mobile-first registration software that trades on ease of use and drag-and-drop setup that starts at $500 per month. Eventdex describes itself as the Cvent for mid-market companies, delivering an affordable suite of event management applications. UniVerse Language Solutions is simply trying to break into the simultaneous translation business in the U.S.
Companies That Have Something To Do With Wearable Beacons
Wearable beacons track the behaviors and preferences of attendees and convert it into rich analytics for trade show organizers, exhibitors, and attendees. In the event technology startup pavilion, two companies featured the technology. Hubvents had the good fortune of also being a technology deployed at the meeting. Its beacons were distributed to every attendee at check-in. The company's behavioral intelligence platform collects information from multiple sources, including beacons (clipped to lanyards). TurnoutNow focuses exclusively on the proximity data collected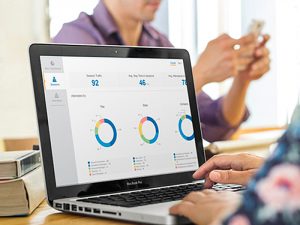 from its wearable beacons (tags adhered to badges) and transmitted to readers placed throughout the event. Both firms cater to the growing interest of organizers to understand attendees at a three-dimensional level.
Startup Firms New To The Event Space
A number of companies inside the pavilion developed an event vertical for technology that exists in other industries like the military or advertising. Detect, Inc. has developed a drone detection and defense solution. It may seem unnecessary for events until you learn that drones can be small and armed. HubiQ allows exhibitors or event hosts to deliver content, collect leads, and network using a mobile device without an app or the mobile web. Where.place's InMapz navigation app delivers walking directions and maps for indoor spaces. Hub 36 is a branded, multi-media content creation app that aims to enrich lead collection. Enradius provides geo-targeted advertising campaigns to attract event audiences.
At Expo! Expo! 2016, a startup is a startup even if technology isn't its sole focus. One company, general contractor Benchmark Expo Services, found its way into the pavilion. The inclusion could be a sign that even traditional service providers rely on technology now. It may also be that startup pavilions, by definition, run the gamut of ideas from old-school to cutting-edge. If you've got questions about event technology, contact the specialists at SmartSource® to walk you through the possibilities.