2019 Event Technology Trends
This past year saw many advancements in event technology, and 2019 promises to improve on some of the most cutting-edge solutions. Lately, there's been buzz about facial recognition, block chain, RFID, immersive experiences, live streaming, and using social media in innovative ways. Here's a sneak peek at what we believe the industry can expect in the coming year.
Facial Recognition
As we mentioned in our last blog post, facial recognition is one trend that is still evolving. In 2018, only the most advanced software delivered on its promise to reduce the time and costs involved in check-in and make an event more interactive, engaging, and secure. The benefits of facial recognition are numerous, so it's safe to say that software developers will continue to improve on its accuracy and effectiveness in the next 12 months.
Blockchain
Blockchain is perhaps the most talked about emerging technology. Let's face it, the idea of transmitting digital information without the fear of it being copied or hacked into is certainly appealing. Blockchain can facilitate the acceptance of cryptocurrency as a payment method for ticket sales to ensure that each transaction is verified and kept in check. Moreover, it can prevent a ledger from being tampered with or duplicated through the use of a Distributed Ledger cryptographic technique, as well as automate transaction tracking to allow repeat attendees to breeze through the security and badge scanning process since their information is already in the system.
In 2019, technology providers will continue to learn more about blockchain and how they can effectively integrate it into events without burdening host organizations or their attendees.
RFID Technology
As event ROI becomes increasingly important, we predict RFID (Radio Frequency Identification) technology will continue to grow in popularity at events in 2019. RFID readers and badges can make the attendee tracking process unobtrusive and seamless, giving organizations a better understanding of the attendee journey so they can increase ROI and gather greater customer insight.
So far RFID has also been hugely successful in creating cashless festival environments, and we anticipate this gaining momentum throughout the rest of the events industry in the coming year. RFID badges can be used to purchase just about anything, which should delight attendees with shorter lines and more interactive experiences.
Augmented and Virtual Reality for Immersive Experiences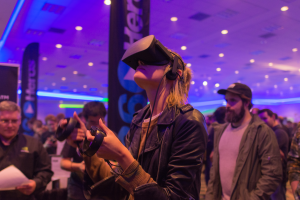 Virtual and augmented reality are increasingly being used not just for entertainment, but to effectively communicate messaging, increase brand awareness, train, grow the sales pipeline, and much more. Blurring the line between the real world and the digital one creates an immersive experience that consumers can't seem to get enough of. Consider this: The average modern attention span is just eight seconds. But a recent study from Columbia Business School found that the average augmented reality dwell time is 75 seconds.
We foresee more and more businesses capitalizing on augmented reality and other technologies to create immersive experiences that optimize attendee interactions and produce meaningful data, ultimately increasing lead generation and sales.
Live Streaming
Broadcasting live events to larger audiences across the Web and social media networks can help organizations impact hearts and minds far beyond their venue. In 2019, the smartest event planners will be incorporating live streaming as a tactic in their overall strategy. In order to do this effectively, they'll need to ensure that the screened experience is powerful enough to translate their event's messaging, content, environment, and energy to livestream viewers.
Social Media
Social media is certainly not new, but many organizations have either failed to see its value, or have aging or stale strategies. In the coming months, event planners will utilize new social media trends and tactics to create more compelling and engaging social media content across all platforms. Hashtags, memes, and instructional videos will be used as devices to make content go viral, and the boldest organizations will create social media command centers on the show floor, putting conversations on full display in order to boost engagement and communication with attendees.  Imagine a feed of live posts displayed on your digital signage in real-time!
For advice on how you can incorporate the latest technology at your event, contact the experts at SmartSource Computer & Audio Visual Rentals. We have many new solutions available that can increase engagement and take your event to the next level.