Lead-capture devices and software have come a long way in the past five years. Planners can access lead retrieval devices and software through event registration vendors, full-service rental companies, and mobile conference guide developers. There are lots of options and new capabilities available. Here's what you need to know.
The basic hardware for scanning a badge—whether the badge contains a magstripe, 1-D or 2-D bar code, or RFID tag—is primarily manufactured by two companies and made available through registration companies and rental companies. Depending on the model, scanners can come with features such as wireless capability, portability, battery power, LCD screen, and the ability to qualify attendees through pre-programmed questions.
The planners of large trade shows requiring onsite badge printing often make the badge scanners available to exhibitors through their registration provider because the cost of registration services is offset by scanner rental income. The lead data is automatically integrated with the registration system, so that if the only data encoded in the badge barcode or chip is a number (for security reasons), the registration company can provide the matching contact information.
It's common for the planners of medium-sized to small trade shows, conferences, and corporate meetings—especially those that don't require large-scale onsite badge printing—to rent badge-scanning hardware (and accompanying software) from a full-service equipment rental company. In this case, lead data isn't automatically integrated with registration data; however, a rental solutions provider can set up an integration with the registration company to provide any missing information.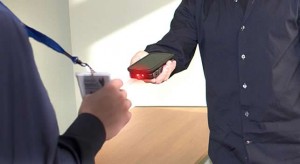 Lead-retrieval mobile apps available through registration companies, equipment rental companies, and mobile app providers (a few have begun adding a lead-retrieval feature to their existing conference guide apps), can transform exhibitors' existing smartphones (Android 4.4 or higher and iPhone 8 or higher) and tablets into lead-capture devices. The devices must have a rear-facing camera with auto-focus to scan PDF-417 barcodes and QR codes. Software in the app handles the lead qualification and export process. It's a good option for tech-savvy exhibitors.
Several conference guide app developers are experimenting with lead retrieval features. At least one app provider has built a wireless digital business card exchange feature into its app. The app allows users to make qualifying notes on the back of the digital card and export the leads from the app for use in Excel spreadsheets or CRM systems. Event organizers who plan to buy a mobile conference guide app anyway may want to consider one with this functionality. The downside is that an attendee has to have downloaded the mobile app in order to provide his contact information to an exhibitor.
Using near-field communication (NFC) technology provided by a registration company, attendees receive badges with embedded NFC chips and associate them with their contact information during check-in. As they move from exhibitor to exhibitor, they provide their contact information by tapping the badge on the exhibitor's NFC-enabled smartphone or reader. The badge reading is very quick using NFC (compared to some scanners that require a little maneuvering to get a good scan). In a show with thousands of exhibitors, speed means a lot.
When used in association with a mobile app, Bluetooth beacon technology is being considered for the lead retrieval process too. When beacons are placed on badges, exhibitors can detect their presence using a mobile app and identify the attendee as he comes into proximity of the booth. Once the exhibitor makes personal contact, he can use the app to record answers to qualifying questions and send the lead data via cellular service to cloud-based storage for later retrieval. Both registration companies and rental companies offer this option.
The technology that a planner ultimately selects should depend on a number of factors:
the rental agreement with its registration vendor;
size of the show;
robustness of the lead-retrieval software (whether it's a mobile app or software built for use with a standard scanning device);
budget; and
flexible configuration options—no two events are alike after all
Working with a lead retrieval expert from SmartSource Rentals can help you find the best solution for your specific event. To learn more about lead retrieval software options, click here .