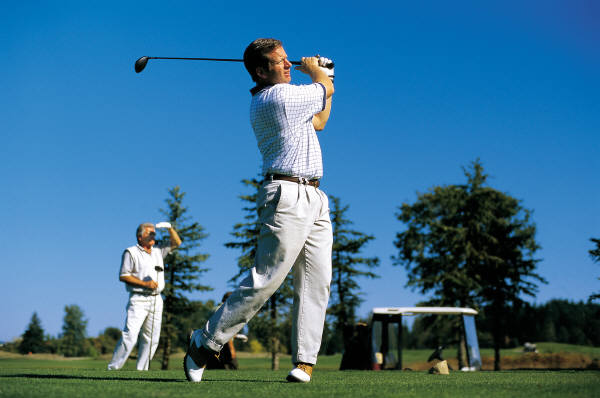 Think about the sports of golf and baseball; couldn't be two of the more opposite type of games. Golfers compete against themselves and are constantly trying to improve their own game. Even though professional golfers are ranked, it is more about how they did at that last tournament and how they are going to improve on the next one.
Now let's take a look at baseball. 25 members on a team that are concerned about beating the competition and ultimately winning the World Series. No one team member can beat or lose to the other team. Statistics and that W-L column is ultimately the measure of success. But in order to be a winner, the team has to be just a little bit better than the other team.
What does this all have to do with meetings and event industry? Plenty! We need to start thinking about our event meeting products and services as the golfing analogy AND deliver like a baseball team. Stop focusing on our competitors and start focusing on how to improve ourselves.
Steven Jobs, the CEO from Apple, is the ultimate example of how to make yourself better. He had a great seller with the iPad and could have just kept selling those tablets because, let's face it, no one was beating him. His product was the Tiger Woods (sorry, but true) of tablets. But did he sit on his laurels? No! He came out with the thinner, lighter, better iPad 2, before anyone could encroach on his already great market share. He has shown this product innovation continuously with the iPod and iPhone as well.
Now, let's focus on the hospitality and meetings industry. The industry suffered a major shakeup in 2001-02, mostly due to the impact of 911. Even though much of this was out of our control, the industry came up with no innovative solutions. Then, in 2008-10, we were caught flatfooted again due to a major, global recession. Many meeting planners were let go from their corporate and association positions, and instantly became independent meeting planners. More hotels and convention centers were constructed, even though we were already in overbuild. We were asleep at the wheel. So, how are we trying to eliminate the competition? Price, price, and price! However, trying to win business on price alone, can be a dangerous game we can't continue to play.
So, how do we bring our A game to the meeting industry?
Figure out how you can make your venue, product, or services better.
Listen to your customers; the good, the bad, and the ugly. Often times, they have the best ideas and can help us become better, even the ones that complain up a storm.
Put together a team of unlike minded individuals. Conflict makes for creative solutions. Make certain they all have unique talents.
Call, email, write, and/or post to your own company. See how responsive you team is. What's the tone and response time?
Why are people renting audio visual equipment from you? Or staying in your hotel? Or visiting your city? The answers may astound you.
Respond to every RFP or proposal as if that prospect was bringing you millions of dollars of business, even if it is only a few thousand.
Never, ever, ever take anything for granted. Not your customers, products, or services. There is always someone out there that will be glad to win your client's business.
Event planning in California and renting audio visual equipment? AV Event Solutions is a high quality, corporate audio visual firm that is interested in your business and will treat you the way a partner should.