Click Link On Image to Hear Podcast
RELATED ARTICLE FOLLOWS
If you haven't noticed yet, content is king, and our audiences are always searching for more. A recent infographic from The Word Pro shows that in just 60 seconds, 4 million posts are engaged with and liked, 300 hours of video are uploaded, and nearly 350,000 tweets are sent. Wow, that's a lot of content engagement.
When audiences search, our mission is to make that content easy to find, and organization of it is key. This applies to both search engines and consumers of your content alike.
Content organization is equally important in your booth, where time is a critical factor for your attendee staying or moving on. You always provide a title in an article and a concise subject line in an email, and there are certain ways your booth can also support this organization to deliver key messaging.
What audiences are consuming your content in your booth? When you are reviewing your content organization in your booth, keep in mind what audiences are coming into your booth, including what stage of the conversion cycle they may be in.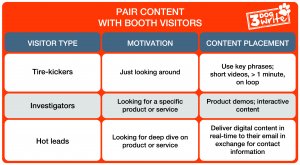 What is your attendee's progression in the booth? When you are doing your booth layout with your platforms such as monitors and signage, consider how your attendee will enter and exit your booth.
Unfold a story for your attendee by using the progression in the booth to help keep moving the story forward. When setting up your communication and visual signage, keep this progression in mind.
Your attendee will not progress in a straight path, and so each content element should stand on its own and add to the overall understanding of your organization and the unique selling proposition of your products and services.
In the progression, you will also be reiterating your overall brand message, so use these engagements to reinforce your brand message with your attendees.
What platforms are being used on the show floor? When it comes to platforms to disseminate information, a digital platform can allow you to bring various product details versus picking and choosing based on a best guess.
Use video on monitors to attract attendees with visual movement, and think about creative ways to have copy on the video if hearing the video on the show floor becomes difficult.
Tablets for your staff can allow them to customize the platform engagement by bringing up the products and services specific to that attendee.
Don't discount tried and true graphic signage, which can be seen from a distance to get attendees moving toward your booth.
Having content is no longer good enough. Use thoughtful organization to unfold your story, reinforce your brand message, and demonstrate to attendees you have their consumption in mind.
Lisa Apolinski is an international speaker and digital strategist, and founder of 3 Dog Write Inc. She is considered a multi-channel marketing thought leader, working in the industry for nearly 17 years. Her focus is on the end user experience, whether the venue, technology or communication. As a strategist, she helps companies develop and share their message, particularly using digital assets.
Lisa Apolinski