Long lines at registration check-in—a source of frustration for meeting planners the world over—can be a thing of the past. Advances in badge printing, check-in, and cloud-based software have streamlined what used to be a huge drag on the attendee experience. Here's what's happening at business events across the country and a glimpse into what the future holds for your guests.
If printing an attendee badge is required, high-speed badge printers connected wirelessly to barcode scanners can speed up check-in tremendously. In this scenario, attendees come to check in with a printed or mobile device copy of their registration confirmation (barcode). To get a badge, they simply approach a scanner, scan the barcode, and a badge prints automatically. Check-in "helpers" distribute badge holders when attendee categorization is necessary.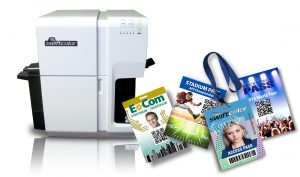 The decentralization of check-in is probably the biggest advance in recent years. Rather than require attendees to lumber down to the convention center to pick up their badges, they can check in at the airport, their hotel, or the evening networking reception (for late arrivals on the first night). These check-in hubs go a long way toward improving the attendee experience and could potentially reduce the amount of space and costs associated with traditional, centralized check-in areas.
When you don't need to print a badge, mobile apps for smartphones or tablets let your staff search by name, company, or barcode (when devices are equipped with Bluetooth scanners). Check-in is synchronized, i.e. once an attendee checks in at any entrance, the master list is updated for everyone using the app. Some systems can also activate NFC-enabled attendee credentials during check-in so guests can participate in various activities during the event by swiping their creds on a reader.
If your attendees are self-reliant and relatively tech-savvy (it's not that high of a bar to reach given that we've all learned how to navigate self-serve gas stations, ATMs, grocery store check-outs, and airline check-ins), self-service check-in kiosks can take photos, collect signatures, and print badges pretty much anywhere there is security (you may want to rule out placing them in the subway station) and an electrical source. These setups can even self-register attendees in many cases.
Software in this category is getting better and better. Today, it can provide event organizers with data like attendee check-in times, a record of walk-in registrations, and a list of  "no shows." In the future, it will become the gateway to enhancing the attendee experience. By integrating registration and check-in systems with other platforms, you could let guests check into their hotel, call an Uber car, and make dinner reservations at the same time they check into your event at the airport.
For years, registration and check-in have been little more than line items on a very long event planner checklist. Registration contractors have done a great job getting attendees through the maze of roped-off check-in lines as quickly as possible. But any kind of line at check-in is undesirable (and often unnecessary) to professional planners. That's why innovations in printers, self-service kiosks, and software are so important, especially when they offer so many new opportunities.
Offer style and speed at your next event check-in with the new Podium Kiosk, available exclusively in silver from SmartSource Rentals. http://www.smartsourcerentals.com/technology-rentals/kiosk-touchscreen-rentals/kiosk-rentals/podium-21-5-kiosk