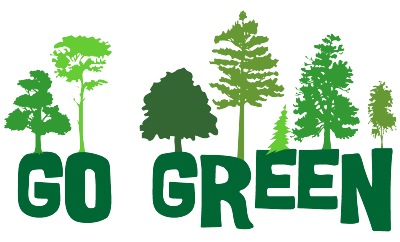 "Going Green" is something you probably talk about when conferring with your meeting stakeholders and it is absolutely the correct thing to do. However, if you are like most planners, the tried and true way of doing things seems to be less costly than the green approach. But what if I told you going green is probably less expensive than you think, when you consider the total cost of a particular item. Would you do it then?
Below are 2 ways to go green that should reduce or at least keep your budget in line. For more ideas on greening your event, check out this BizBash article entitled" 15 ways to go Green and What They Cost," from which the ideas below were originally sourced.
1. Use LED lighting.
Light-Emitting Diode (LED) is a semiconductor light source and is increasingly being used for general lighting. This type of lighting is lightweight, offers very high brightness and has a variety of colors.
Convenience: LEDs are cool to the touch and require roughly 80% less energy than traditional lighting options. This type of lighting falls into the light equipment rental category for AV companies thus saving you time and expense in purchasing, shipping, storing and installing these units. The lights come in a variety of colors and because they are lightweight, there is no need for film rigs to deliver multi-colored lighting, thus saving AV labor charges.
Cost: While the actual rental cost of LED lighting might be more expensive than traditional lighting options, consider the following savings when comparing various options:
Renting

versus buying will save immediate dollars. For more information, check out this SmartSource Rentals article "Rent vs. Buy Audio Visual Equipment". PLUS
Your meeting's

electricity expense

will be greatly reduced if the hotel or conference center passes a surcharge onto you PLUS

AV labor expenses

will be reduced because there is a lot less cabling involved. In addition, the fact that they are lightweight, make the LEDs easy to install and strike.
2. Go Entirely Paperless.
From the registration process to the conference content, everything can be digital. And I mean everything. Many planners think it will cost them an "arm and a leg" but that is just not the case.
Convenience: When you rent iPads for attendees, everything can be on this one pound device. All the presentations, speaker bios, agenda and social channels. Individuals can network more effectively because they can connect immediately with fellow attendees through social. There is no need to print, assemble, ship, unpack and store conference binders which cost money not only in supplies, shipment and drayage but also in your staff's time assembling and correcting the materials. Attendees can be directly connected with you, the speakers and sponsors through Twitter or other social channels on a real-time basis.
Cost: While you may say your organization can't afford to rent iPads, video walls or digital signage, it is best to look at the total cost before making that determination. Here are some of the costs associated with a paper conference:
Printing and paper

PLUS

Costs associated with

:

Direct mail pieces and postage
Manual data entry
Programs
Conference binders
Paper surveys PLUS

Shipping and storage

of those materials to and from the conference PLUS

Cost of labor

associated with putting the binders together PLUS
The cost of a

"delayed response"

(Not responding to an attendee's immediate need)
When you add up all these costs and compare it to the iPad rental and app costs, what do you see?
AV Event Solutions, now part of the SmartSource Rentals family, can provide you with sound and lighting rental units, iPads and much more! Give them a call today at 888.249.4903 to get started!