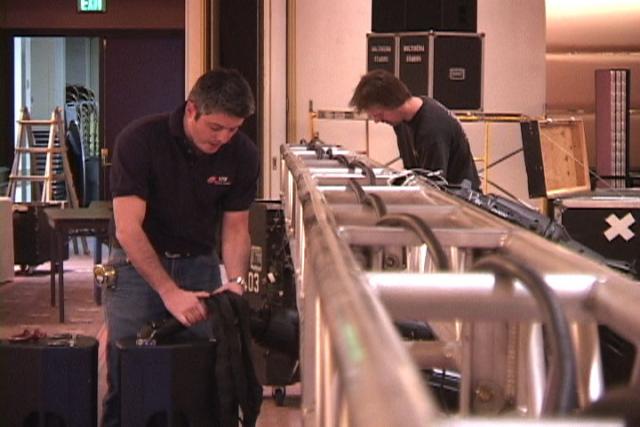 Have you ever wondered what it really takes to produce a first-class event…from an AV standpoint? Would it surprise you learn that the average AV production team spends 65 to 350 hours to plan and produce a quality conference? If the answer is yes to both questions, the timeline below is for a hypothetical 2-day conference that is indicative of the effort a partner-focused AV team puts into your event.
Day 0 (The day before your event)
5 AM Load the trucks with all the Audio Visual equipment needed to for the conference.
7 AM Drive 100 miles to the event venue.
9 AM Arrive at the venue, unload the trucks, and roll the equipment into the facility.
11 AM Set up the staging, seating, scenic elements, projector and screen rental, and sound and lighting rental in each room in a seamless and integrated way. Test all equipment.
5 PM The next day's speakers come in and test and rehearse their presentation services audio visual equipment with the AV team. This is where changes and edits usually occur to the presentation.
8 PM End of Day 0. The rooms, presentations, and AV are all set.
Day 1
7 AM Arrive back on-site for last test, run through, and rehearsal of presentations.
9 AM Conference starts and AV technicians are in the back of each room to ensure all presentations, lighting, and sound equipment work flawlessly. AV Project Manager is floating from room-to-room to ensure all needs are being met and is proactively working with event organizer and speakers.
4 PM Ballroom has to be converted to an evening gala and fund raising event. AV team needs to reprogram the light equipment rentals, rework the staging, do a sound check, reset the tables and chairs, and change the screen rentals out. Band comes in to set up equipment.
6 PM Keynote speaker rehearses and edits presentation. Band tests sound and lighting.
8 PM Gala starts and AV technicians work the lighting, sound, and presentation equipment for event.
9 PM Band starts playing.
12 AM AV team sets room back as it was earlier in the day. Reprogramming of lights, checking of sound system, and rehearsal of next day's speakers need to occur.
3 AM End of Day 1.

Day 2

7 AM Arrive back on site for last run through and test of equipment. Speakers on hand for last rehearsals.
9 AM Day 2 of conference begins. AV Technicians and Project Manager are in the rooms to ensure flawless execution of event.
4 PM End of conference. Strike immediately and roll equipment out to trucks.
6 PM Load trucks and drive back to office.
8 PM Unload trucks and store equipment in the proper places. Do an inventory of the equipment and make note of any equipment that needs maintenance.
11 PM Go home and collapse and be ready to do the same thing next week!
AV Event Solutions, a California conference services company, has certified and experienced audio visual technicians and project managers that can really make your event shine! Give them a call today to learn more about their services and product offerings.