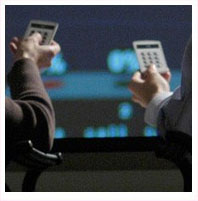 Do you like movies that have alternate endings? Or books that have interesting and unexpected twists? If so, you are not alone. We all like to be intrigued by whatever we are watching or reading and this sense of not knowing how things will turn out applies to the meeting and event industry as well.
Think of Audience Response rentals as your alternative ending or added twist platform. They easily plugin to the PowerPoint presentation equipment. Quite simply, every 5 or 10 slides the speaker can take a checkpoint assessment of where the attendees are and where they want to go.
There are 6 easy steps in utilizing ARS: 
Software is added to Microsoft PowerPoint which enables trainers and presenters to develop and administer real-time assessments of participants.
Wireless clickers are handed out to the attendees.
The presenter asks a questions with multiple choice answers displayed on the screen.
The audience responds by pressing a letter or number option on their keypad
After the voting is completed, the attendees can see the results on the next PowerPoint slide.
With this feedback, the speaker or trainer can tailor their presentation accordingly.
What are the overall benefits of Audience Response System rentals?  The units:  
Are very easy to use

Keep your attendees involved in the presentation

Provide Instantaneous and anonymous voting

Allow the speaker to change up their presentation based on the vote

Discover the specific needs and wants of your attendees

Gage comprehension of specific training points

Access feedback about what is being discussed

Enables faster decision making
Where would you use ARS? 
Annual Meetings, when voting on proxy items
Sales Meetings to garner the knowledge and interest level of new and beta products
Human Resource seminars to explain new policies
Product Launching Events to gather feedback about the new product or service
Training and Educational Sessions
Survey Tool to replace paper
The key to using ARS units successfully, especially with PowerPoint, is to have a presenter that will move to the areas of audience interest, thus creating an alternative middle and ending for the audience. Just like a good book or movie, the attendee can be captivated by where the presentation is going and know they had something to do with the outcome.
To learn more about how audience response can save time, money, and resources at your next California event, request an Audience Response System Rental Express Quote now from AV Event Solutions.