With 2016 now upon us, it's time to take a look at tech ideas and tips that you can use for your trade show booth to get the most engagement and best ROI this year.
You may, or may not, already know which industry shows you will be attending this year. But even if you haven't made your final list yet, the most important thing you can ask yourself before you commit to any booth design, or technology, is this:
What technology did you use last year in your exhibits and how did it work for you?
If you don't know exactly what worked and what didn't work, it becomes much harder to determine what technology you might want to use again, or what you need to discard and replace with something more innovative.
Set Yourself up for Exhibit Success
Once you've completed a year-end evaluation, it's time to determine your goals for 2016. Goals are an important part of creating a map to success for the upcoming year!
In general, your overarching goal is likely increase new business, but as you know different shows often give you different opportunities such as:
Spreading brand awareness
Working your way into a new market
Networking
Gaining sales leads
Connecting with partners
Getting media coverage
Releasing a new product or service
Strengthening customer relationships
Having one or more show goals is the key to selecting the best technology because…
you want technology that is going to best support your specific goals.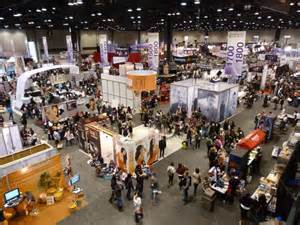 Booth Tech Tips
No one is asking if they should include technology in their booth exhibit, it's really a matter of what types of technology are most appropriate to achieve show goals and positively impact the perceptions of your target audience.
1. Try something new to attract booth traffic
You've done your evaluation and have a good idea of what worked before and what didn't. But here's something to consider – technology is ever-changing. So just because a specific technology worked for you last year does not mean it's the best choice for this year. There might be a new technology that will better support a specific goal, or allow you to gather more lead information, or create more of a wow factor that will increase booth traffic. So, know what tech choices exist.
2. Create more customer relationships, use technology for lead retrieval  
Selecting technology, such as our tracking and Lead Retrieval Systems, which allow you to easily gather attendee information, frees up your time so you can spend it where it matters – having face-to-face conversations to create more and stronger customer relationships.
3. Extend your points of interactivity  
Potential customers who visit your booth are certainly going to spend more time there when you give them something they can interact with. And since you will only have a certain number of employees working your booth, you can extend those points of interaction by utilizing certain types of technology. For example, Touch Screens boost interaction while providing information and extending your reach.
4. The reality is, relevance matters 
The point of exhibiting at different shows relates to having different opportunities, or achieving various goals. So, as you are determining which technologies are your best choices, make sure you are thinking about that show, that audience, those potential customers. The truth is, you might have the most high-tech, clever booth, at the show but if it is not relevant to that specific set of people, you won't get the results you're looking for. So know your audience and then select your technology.
5. Use technology to help attendees feel heard  
At a trade show, you can achieve this in numerous ways. For example, you can use digital signage to stream social media channels where viewers can watch their tweets and posts go live for all the world to see. Or, you could provide preprogrammed iPads to collect information and ideas on potential products and services.
No longer do potential customers want to sit and be spoken to. Business today is about strong customer relationships and letting your customers know they are being heard.
Get the Most from Your Trade Show Booth with SmartSource Rentals
The bottom line? For a successful trade show exhibit, your technology needs to support your goals, bring the customers in, boost interactivity and engagement, enhance your booths relevance to the audience, and let them know they are being heard.
We can help you achieve all that. Select from our extensive technology inventory to make your 2016 trade show booths the most successful you've ever had.
Call us at 800.888.8686 so that we can help you select the best technology for your exhibiting goals, or request a quote today.