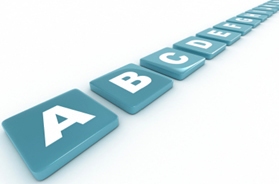 Every year, BizBash puts together their A to Z listing of the biggest stories and ideas derived from the entire year. This year is no different as shared in the Winter 2013 edition of their magazine. While some letters had many event stories, today's blog will only focus on one story per letter. In Part 1 , we will cover letters A-M. On Wednesday, Part 2 will finish up the rest of the alphabet (letters N – Z). In addition, if interactive technology tool rentals can help, we have indicated which tools makes sense.
Here we go:
Award Show Antics: The MTV Video Awards were shook up by Miley Cyrus's act that created controversy and lifted the singer to a whole different level.
Booth Babes: The Consumer Electronics Show updated their policy on exhibitor attire when scantly clad brand reps were manning booths.
Color Blocking: Pairing two or three totally different colors together to make a statement has been very effective with many events.
LED fixtures are available when renting audio visual equipment to provide color blocking with single color RGBA optics and 530 lumens.
Digital Etiquette: As companies draft social policies and best practices, they are looking for ways to extend this to meetings.
For example, if you rent iPads and load Twitter onto each iPad rental unit, it is not okay to tweet on behalf of others as learned at Comic Con.
Engagement Emphasis: Engagement helps the host determine how much the event strengthened the brand's relationship with clients.
Conference planners can use wireless Audience Response Systems to determine if the content was relevant, useful and shareable.
Festival Fiascoes: The Electric Zoo Festival, Great Bull Run and Ultra Music Festival experienced death, injuries, or equipment problems.
Glamping: Going camping with glamour. Great for corporate retreats where attendees are looking to unplug but still have nice things.
Healthy Activities: Hotels are adding paddle boarding and yoga. Planners are adding exercise-based activities to help attendees bond.
IRS Conference Scandal: According to a Congressional committee, the planners overspent on food, speakers and entertainment which was $4 million for 2,600 attendees. (This equates to $1,538 per attendee.)
Javits Dispute: The NY Governor's decision to give the NY Boat Show preferential dates at the Javits Convention Center displaced 5 other shows and created waves in the industry. It put Javits at a competitive disadvantage with other first-tier cities when bidding for trade shows.
Kickstarter: Crowdfunding events abound, thus reducing planners financial risk and effectively gauge attendees' interest.
Low Tech: Old fashioned options such as board games, still keep attendees engaged at an event.
Marathon Bombings: The Boston Marathon bombings caused event producers to reevaluate their security plans for large public gatherings.
Part 2, which will cover N-Z of this list, will be published on Wednesday.
SmartSource Rentals can provide your organization with innovative light equipment rentals, Audience Response System rentals, and iPads. Give them a call at 800.888.8686, fill out an express quote, or participate in a live chat with one of their experienced and knowledgeable representatives.