Whether in trade shows, installations and events, stadiums and convention centers, or churches and houses of worship, you've probably seen some futuristic, jaw-dropping LED video walls popping up over the past few years. This cutting-edge display technology is becoming more common, and investing in video walls for your organization or event is a savvy way to enhance your aesthetics, production value, and "wow" factor instantly.
Like any AV technology, when you choose an LED video wall, you want to make sure you've considered all the relevant factors. The last thing you want is to invest in something that isn't the right fit for your needs, or to pay for features that you just don't need. So, the next time you're thinking about getting an LED video wall, here are some things to consider that will help you assess what LED video wall solution is right for you:
1. Setup – Where is the LED going to be set up in your space?
How the LED is set up is a significant factor. It requires assessing the size and weight of the LED as well as the space where the video wall will be affixed, viewed, and operated.
• Flown or Hanging Video Walls: Best for a viewing distance of 12ft or more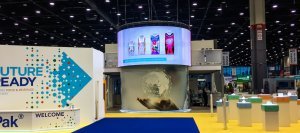 • Ground Supported Video Walls: Best for a viewing distance of 3ft to 12ft

• Mounted Video Walls: Best for a viewing distance of 5ft or less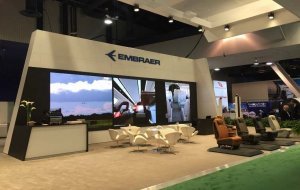 2. Pixel Viewing Distance – How close is someone going to get to the wall?
The size of your pixel is dictated by how close the viewer is and by the resolution media presented on the wall.
• Less than 3ft away = 1.2mm to 2.6mm. Used for interactive displays
• 3ft to 15ft away = 2.6mm to 3.9mm. Used for typical indoor booth signage
• 15ft to 75ft away = 3.9mm to 5.9mm. Used for background staging for TV and bands
3. Size – How large do you want your LED wall?
Size will depend primarily on what you want the content displayed on the wall to do: inform or attract.
Displaying content with the intent to inform requires fine detail. Your text needs to be legible, so a big wall is not what you need, but a wall with a fine pixel pitch. People are going to stop and read your details, and you want it to be as sharp as possible.
If you're using content to attract people, you will need to make an impact. Flashing and moving graphics facing in the direction of foot traffic will draw people in. This is where a larger flown LED wall is best. But this is where you don't need the fine pitch. What you need is a human bug zapper – big, bright, and alluring. No better way to explain it!
4. Content Layout – How do you want the content displayed on the wall?
• Mirrored content: The same content presented on multiple displays.
• Extended content: Content that is "extended" across the entire display surface. Content can also be extended across displays in a mosaic format.
• Play settings: How is the media going to play? Looping, timed, triggered, or on-demand?
5. Power – How is the power being supplied?
Accurately assessing power needs and coming up with a safe, sustainable option for power supply requires a bit more expertise. To make sure your video wall is adequately powered, it is best to consult with an AV professional.
For our video wall rental solutions, SmartSource is able to create custom power requirement and delivery specs for every video wall display we provide based on the amount of tiles needed for the wall.