When you envision a successful event, you might imagine an audience captivated by brilliant speakers touting the benefits of your cutting-edge product line, supported by bold presentations delivered via the latest technology in a setting that's been carefully curated to inspire guests and make them feel like they're a part of something special. Such an event is certainly possible, but not without a decent budget and several months of exhaustive planning by a team of highly experienced professionals.
In fact, it's not unusual for a company to spend upwards of $100,000 on a high-level, camera-ready general session that takes months of planning, and lots of time to set up and break down.
Whether you're planning an elaborate production or a small exclusive one, a key component in the planning process is choosing a provider with a broad selection of impactful event technology. But in addition, the ideal technology provider will have dedicated professionals – both behind the scenes and at the front lines — who will work with you throughout the process to ensure the proper design, installation, and execution of your integrated technology solutions.
Behind the scenes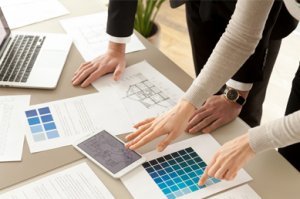 One individual who typically works "backstage" at leading technology companies is the solutions architect, who among other titles may also be known as the sales engineer. Drawing upon a deep expertise in the latest event technology and extensive knowledge of best practices, the solutions architect creates a custom solution based on your unique needs, event, and budget.
A solutions architect brings great value to a project by providing full-service design and configuration that bridges the gap between concept and deployment, so your expectations are fully met. From initial conception – collaborating with the sales team and utilizing CAD to illustrate where and how a client's event technology will play out – to guiding operations at on-site deployment, this person plays a key role throughout the entire process. The services administered by the solutions architect go beyond designing the best solution to include the education and support that is so crucial to the powerful performance of your event technologies and peripherals.
At the front lines
Be sure to choose a solutions provider that offers dedicated project management, as it is extraordinarily beneficial to event planners. In addition to serving as your main point of contact and keeping you informed and organized throughout the process, a project manager helps a client meet and exceed their event goals by becoming an extension of their team – being both fully aware of an event's challenges and knowing how to overcome them based on that client's individual preferences.
Your project manager will carefully coordinate and oversee a team of seasoned engineers, technicians, support staff for content deployment and AV command centers, and dedicated on-site technology specialists who orchestrate the equipment and software setup. Often working with a client at multiple locations throughout the country, the project manager brings continuity to a project and ensures seamless implementation of event technology.
Only the best technology provider will offer you a dedicated, end-to-end team of professionals that includes solutions architects and project managers, all of whom work together to ensure your event runs smoothly from start to finish. This includes pre-event planning and budgeting, setup and testing, on-site support, and post-event equipment breakdown.
As a leading provider of event technologies, SmartSource Computer & Audio Visual Rentals has expert project managers and solutions architects strategically located across the country, so you have every resource you need to ease your burden and make your next event a success.