Another Expo! Expo!, the annual conference and exhibition of the International Association of Exhibitions and Events, has come and gone. The "Show of Shows" was held December 3-5 in Las Vegas at the Mandalay Bay Resort and Casino. The annual event epitomized where event technology finds itself as 2019 comes to a close.
Digital attendee marketing is coming of age
Not long ago, the attendee-marketing stack was dominated by traditional tools, such as email, direct mail, and print advertising. Today, the landscape looks very different. Solutions that approach attendee acquisition in non-traditional, mostly digital ways were standouts on the Expo! Expo! show floor:
Peer-to-peer referral marketing: Gleanin and Ingo enable organizers to facilitate invitations to attend from registrants to unregistered (and often net new) colleagues via email and social media.
Exhibitor-to-attendee invitations: Nvytes, Exhibitor Invites and Event Technologies provide exhibitors with branded tools to invite their customers and prospects to the show.
Influencer marketing: Snöball and Feathr provide organizers with pre-designed collateral (for example, landing pages, banners, email templates, or social sharing images) to encourage speakers, sponsors, exhibitors, and other event partners to invite colleagues to attend.
Ad retargeting: Feathr also offers ad retargeting for attendee acquisition, as well as managed (strategic, creative, and implementation) services to help organizers get the most from its platform.
Call center: Voicelogic provides organizations with US-based telephone representatives to increase live event, web event, and early bird registrations.
Pay-per-click: Tag Digital helps event organizers deliver event-centric paid advertising campaigns on search engines and social media, mobile, and video platforms.
Data analytics: Bear Analytics analyzes attendee data from multiple sources, including registration and paid lists, develops audience personas, and uses digital tools and human analysts to inform marketing campaigns in the weeks leading up to the event.
Audiovisual technology gets touchy feely
Innovation in LED, touch, and mixed reality aren't only a glimpse into the future, they're evidence of the creativity available to event organizers today. The beMatrix LEDskin backwall in the SmartSource booth was no ordinary video wall. It featured grease-penciled-graffiti windows dropped onto a multicolored moving canvas for a "deep space meets abandoned warehouse" aesthetic. SmartSource® also built the massive LED wall on the general session stage. It measured 90 ft. wide by 17 ft. tall and consisted of 486 LED tiles.
SmartSource sponsored the AV Experience, a collaboration with the Audiovisual and Integrated Experience Association (AVIXA™), that delivered AV-focused education on the show floor. The content ranged from practical advice for exhibition planners to an introduction to next-generation interactive and experiential AV technology. also offered a veritable "petting zoo" of interactive touch screensHD3 Hologram Box, which delivered a mixed reality experience inside an acrylic pyramid.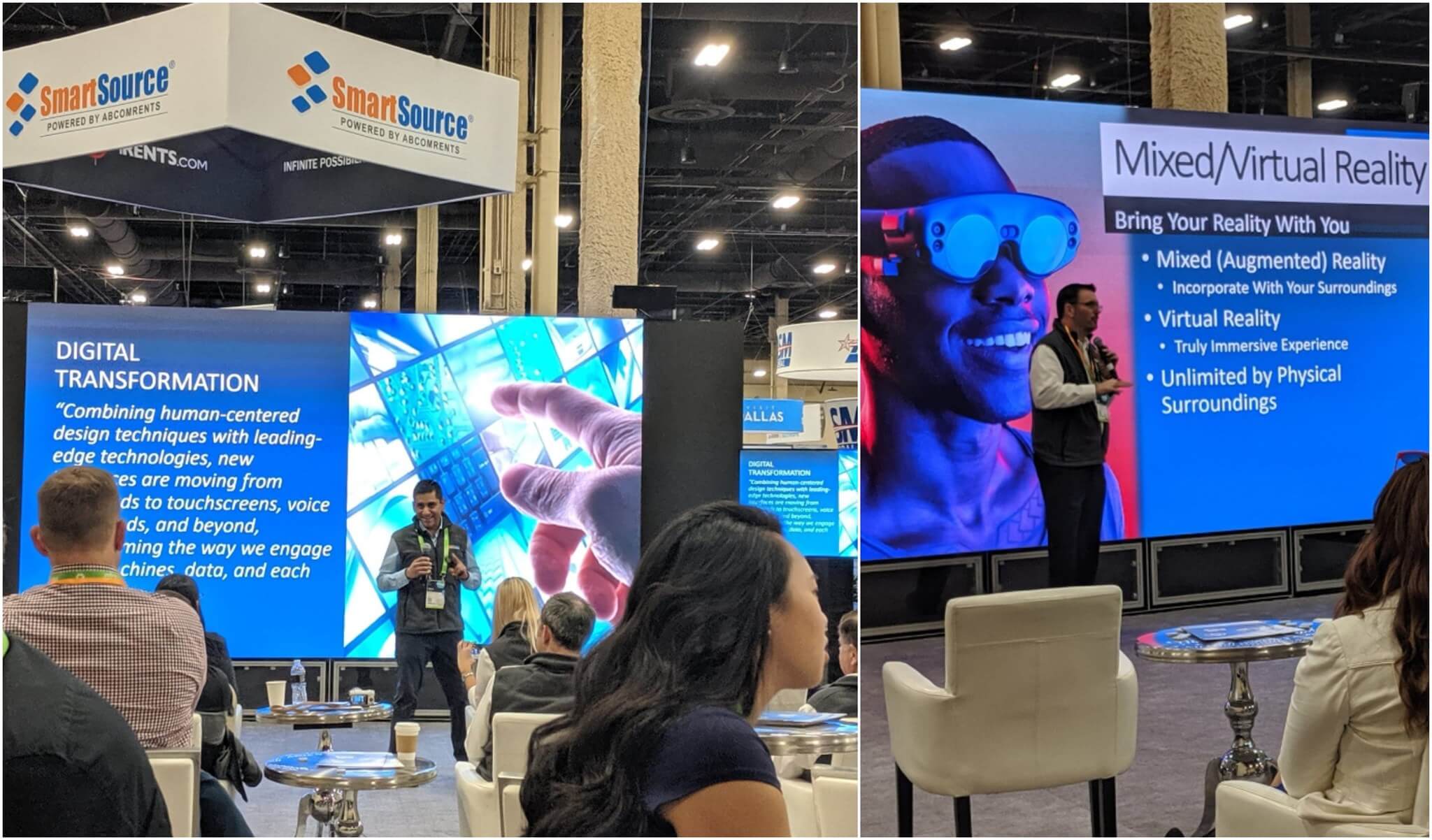 AR and VR find a place in expos
While augmented reality and virtual reality aren't yet mainstream as event organizer activations go, there was a hint on the Expo! Expo! show floor that the technology is finding its way into the exhibition ecosystem. Mosaic Learning presented virtual reality as an effective and memorable educational platform. BundlAR offered visitors a look at its augmented reality content management system as well as eXpoReality, a lead retrieval application combining augmented reality and gamification for organizers to use as a sponsorship opportunity.
AI boosts the effectiveness of existing technologies
Artificial intelligence (AI) is changing the world. Why not trade shows? At least four exhibitors at Expo! Expo! offered AI applications (mostly to existing solution categories). 42Chat (formerly Sciensio) was back not only as an exhibitor but as the provider of the official Expo! Expo! AI chatbot. Swapcard uses AI to personalize networking through a mobile app.  Foto ATM kiosks print photos when an attendee uses a custom Instagram or Twitter hashtag in his or her social media post. The company uses AI to insert more imaginative backgrounds into the photos. Wordly, also the winner of the 2019 IBTM Tech Watch competition, exhibited its AI-powered translation platform, which can provide simultaneous translation (audio and text) on a mobile device in 15 languages.
Event intelligence platforms gain more traction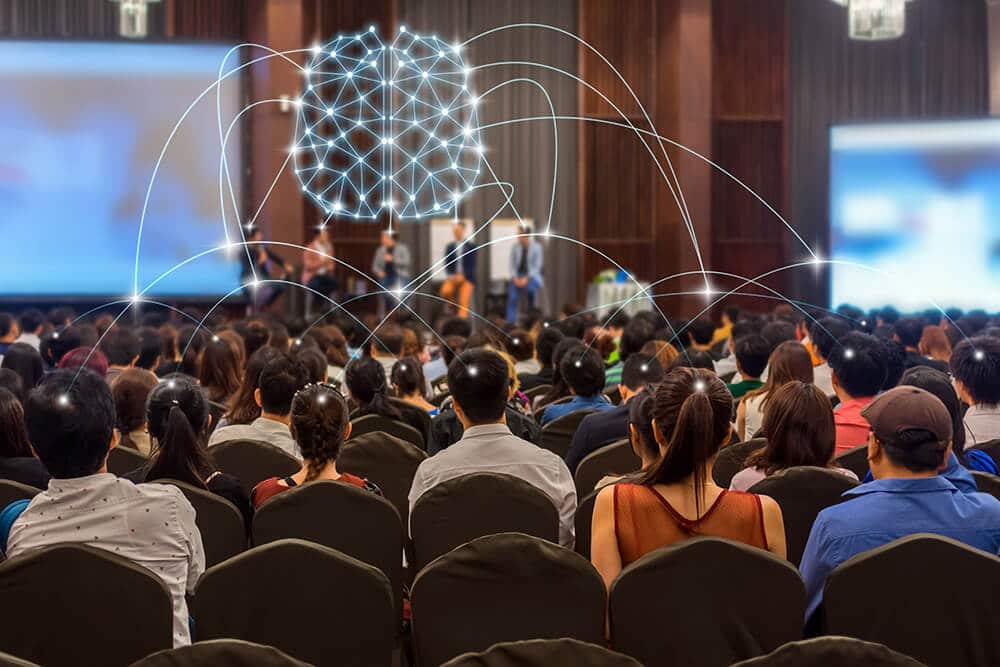 Converting data insights into actionable intelligence is a pain point for organizers buried in data from multiple sources. The Nexus Group showed Expo! Expo! attendees how it cleans, aggregates, and activates data to enhance the attendee experience and exhibitor ROI. Live Event Intelligence Platform (LEIP) analyzes what potential attendees are researching online and combines that data with event-related data sources (registration, badge scans, survey responses, etc.) to provide organizers (and exhibitors) with a ranked view of prospects that can shorten the sales cycle. Expo IQ gathers public data from the Internet to direct potential exhibitors to shows which their customer prospects attend. It collects a fee from organizers when exhibitors sign up for their event.
Beacons still abound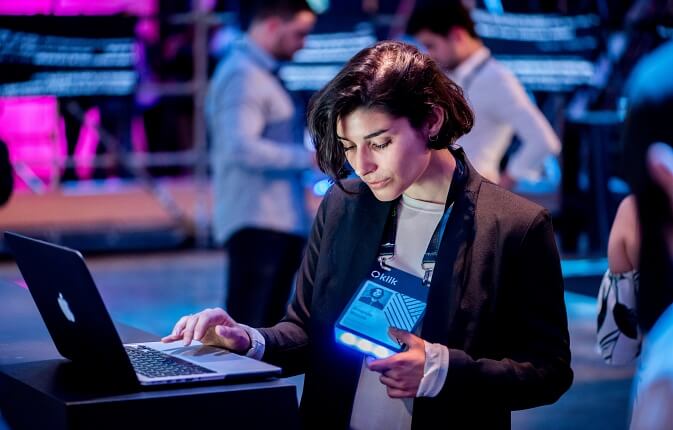 Like mobile apps, beacons are becoming a staple of many trade shows. The Indoor Lab's Click2Connect interactive beacon, which was attached to Expo! Expo! attendee badges, allowed attendees to share contact information with one another. A host of beacon technology providers collect and process beacon-generated proximity data (time, date, dwell time) so organizers can understand buyer intent and attendee preferences, as well as observe traffic patterns (using heat maps). The latter category was represented at the show by:
Smart City Networks (providers to exhibition centers)
Convention Data Services (now a Freeman company)
Fewer event-tech companies on the floor
The event-tech footprint at the Expo! Expo! trade show was smaller in 2019 than in prior years. Some have observed the number of technology companies entering the industry has leveled off. But also, market leaders made acquisitions that reduced the ranks. Nevertheless, there were many bright spots. Balou introduced a new mobile marketing platform that showcases exhibitor giveaways and builds booth traffic. Convention Data Services rolled out Digital Backpack, a passive lead retrieval app, and Mobile Badge Print (badge-printing via mobile device). The official registration provider, Streampoint Solutions, treated attendees to check in using facial recognition technology.
Even with less new tech, there is still innovation and evolution taking place. Audiovisual hardware, for example, is on a roll. SmartSource Rentals, part of ABCOM Technology Group, helps event organizers keep an eye on the details—in AV and event technology in general. It's still a brave new world. SmartSource® is your window to the future.