According to the Centers for Disease Control and Prevention (CDC), 53 million adults in the U.S. have a disability. Many attend and participate in trade shows, conferences, and other events with the expectation of an ADA friendly event environment. Fortunately, there has been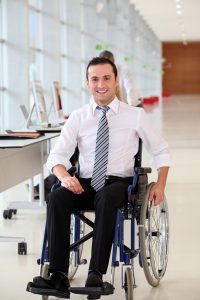 considerable progress on this front, such that accessible meetings are now a goal for meeting planners where once they weren't. Through the efforts of such organizations as the ADA National Network Centers, there is more information and assistance for meeting planners who are committed to having an accessible event. New to this topic, however, is how event technology can be deployed to enhance the experience of attendees with disabilities.
The Basics of an ADA Friendly Event Venue
One of the areas where many strides have been made to make events more accessible to Americans with disabilities is the event venue. Specifically, meeting planners recognize today the need for venue features such as:
Barrier-free, well-lit accessible main entrances
Doorways to key event areas including lunchrooms, conference rooms, seminar rooms, etc. that accommodate wheelchairs and other mobility vehicles, as well as presentation rooms with aisles to accommodate these mobility aids
Elevators that also accommodate wheelchairs, scooters, etc.
Easy-to-open doors, either automatic or those with lever handles or buttons as opposed to revolving doors
Slip-resistant, level surfaces
Venues in close proximity to transportation hubs (airports, train stations, etc.)
Restrooms that accommodate service animals
Guest rooms with availability for TTY, hearing-aid compatible, and volume-control telephones accessible from a wheelchair and/or scooter, as well as adjustable lighting
Presentation rooms equipped with assistive listening devices, adaptive computer devices, roving microphones for audience questions, and speaker podiums at ground level or accessible via a ramp or lift
ADA Friendly Event Technologies
Many of the latest technologies for events are compact and freestanding in design and allow them to be placed easily in areas that are considered more accessible. Here are a few that can further enhance the experience of persons with disabilities:
The Podium Kiosk – this sleek-design kiosk is outfitted with an extended WiFi antenna, negating the need to tether it to an Ethernet set-up. It can be placed anywhere WiFi signal is stable. The touch-screen display is angled at 45 degrees, which makes operating it a breeze from both a sitting and standing position.
Sharp 80" Interactive Display – Highly intuitive and responsive, this display can be used to both display content and to collect information from up to four users at one time. It's like a digital whiteboard in function, but it displays in high-definition, with a 10W per channel stereo audio system.
High-Top Charging Station Table –What makes this charging station different than others, aside from the function that comes with the table-like design, is an optional internal battery that allows for it to be placed anywhere without the need for extension cords or outlets.
Industry Resources
There are several resources event planners can turn to for information on how to create an ADA-friendly event. We recommend these because they know the ins and outs of meeting planning:
For more information or to consult with one of our Event Solutions Architects on how to deploy technology to make your event ADA friendly, please contact us at (844) 428-6475.