The technology that powers events produces a lot of data: demographic, behavioral, and historical, to name a few. But one category of data, the information delivered immediately after it's collected—real-time data—has a value that sets it apart from any of its business-intelligence counterparts.
 A real-time data strategy is dependent on technology. While the field is still evolving, there are a number of solutions available to help planners build a real-time information ecosystem today:
Mobile event app software is a major building block of a real-time data strategy. It records user interactions with content (clicks on the exhibitor directory, speaker bios, agenda), exhibitors (appointments) and peers (in-app messaging and social media). And these interactions are clues to what customers want. Event planners can use this information to make Amazon-style suggestions about other content and programming that may also interest attendees—a much-desired level of personalization.
Beacon technology is at the core of understanding how attendees move through an event. Beacons on attendee badges send radio signals to beacon readers located strategically throughout the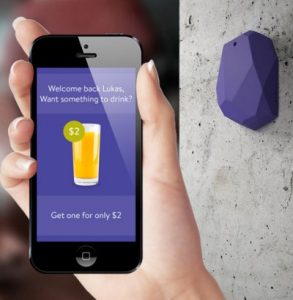 event. Beacon software can deliver heat maps (real-time displays of crowd locations) and pinpoint the location of specific individuals within the conference. An "in-the-moment" record of the customer journey lets organizers know that attendees are in the right place at the right time. It reveals the strengths and weaknesses of programming and pinpoints early trouble spots.
Video displays can be used to personalize an attendee experience in real time. As visitors check into a session, enter a ballroom, or walk past a product viewing area, an RFID (or beacon) reader could read the RFID tag (or beacon) attached to their badges and display their names or a personalized message on the screen.  This level of personalization enhances the attendee experience and delivers a wow factor.
Event check-in software lets planners know when individuals have arrived
(VIP speakers and guests, for example). It notifies the badge printer so that attendees receive badges quickly instead of waiting in line. It's also critical for making programming changes and accommodations on the fly. Real-time session check-in software can, for example, enable a quick-thinking event planner to manage a wildly popular, aka standing room only, presentation in any number of ways. She could order up more chairs, live stream the session to an overflow room, or repeat the presentation elsewhere in the program.

The technology to deliver real-time information to event planners is changing the event experience for attendees. While mobile apps, beacons, and check-in software can be part of a real-time data strategy now, the future will welcome other technologies: chatbots, the Internet of Things, perhaps even augmented and virtual reality. Planners that lay a foundation now can be ahead of the inevitable curve later. For more information on building a real-time data strategy, contact the technology experts at smartsourcerentals.com.