Many conferences—especially those hosted by technology companies—provide product training for their attendees. Breakout sessions at these types of gatherings are more complicated than the freeform panel discussions or one-on-one interviews on a comfy sofa at non-technical meetings. They involve room setups and equipment that facilitates learning by actually doing. Here are the key things to keep in mind when designing a temporary training lab:
Seating for comfort and elbow room
Classroom style seating—rows of 6-foot tables with two chairs per table, for example—is the go-to arrangement for a learning lab. It's also the best configuration (except for an auditorium) for everyone in the room to have a good line of sight to the front of the room and enough personal space.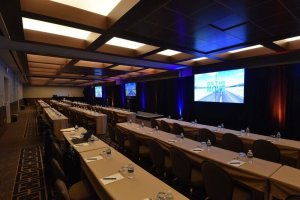 Multiple screens at the front of the room
Depending on the type of instruction used and the product (software, for example), trainers may use one or more screens. For example, one screen might show a PowerPoint presentation with user instructions, while a second screen shows the user interface of a software application.
 Desktop displays to mirror screens
When trainers use two screens at the front of the room, it's useful for desktop monitors (placed at every seat) to mirror that configuration. Thus, one monitor would synch with the PowerPoint, but a second monitor connected to a laptop would allow trainees to work in the software program.
Local area networks provide strong connections
In a learning lab setting, it can be risky to rely on the WiFi connections provided to the entire conference. A dedicated local area network for the breakout room helps guarantee connectivity and synchronization between the
desktop monitors and the front-of-the-room screens.
Lighting design that's easy on the eyes
With so many glowing monitors and presentation screens, room lighting is critical. It should be bright enough to accommodate lots of trainees staring at electronics, but soft enough to avoid glare on the desktop monitors.  Some extra illumination of the speaker could be helpful, but shouldn't be a distraction for attendees trying to learn from information on the screens.
Audio that reaches everyone in the room
Training labs don't typically require complex sound systems. A single presenter is usually the only person who needs amplification. If there are questions from the audience, a question and answer app is more effective than microphones. The goal in this setting is to make sure that every trainee can hear the training session no matter where they're sitting.
Technicians for troubleshooting
With a lot of electronics in the room, it's a foregone conclusion that there may be issues with some equipment or some users will require assistance.  Having in-room technical support to help those who can't help themselves reduces disruption for the rest of the learners and presenters.
Rear projection is a better bet
If you can spare the room for a rear projector, it's an optimal choice for two reasons. Rear projection (using a high-definition projector) produces a higher-resolution image, which is important when trainees are viewing spreadsheets, charts, and fine-detail images like buttons and drop down menus. Plus, having equipment out of the way lets everyone in the audience have a good view of the screens.
Learning labs aren't unusual, but they are different from the usual breakout-session fare at business-to-business conferences. It's important for planners to work with an audio-visual partner like SmartSource Rentals that can strike the right balance between equipment, technicians, and participants to enhance learning.