Attendees are excited to get back to in-person events. However, many attendees still wonder, "how does the event organizer plan to keep me safe?"  
States have moved closer to lifting all restrictions on businesses and gatherings as vaccination campaigns have progressed. According to the CDC, as of May 23, 2021, 50.8 percent of the U.S. population had received one dose of the vaccine, and 40.9 percent had been fully vaccinated. Several states have declared themselves fully reopened, which means the number of in-person events continues to grow. 
With many folks itching to resume back-to-normal indoor attendance at events, offices, restaurants, and more, how can businesses and event organizers continue to provide safety protocols without sacrificing the guest experience?  
One option is to integrate SmartSource's contactless temperature-checking solutions. Most recently used by Matco Tools at their 2021 Expo in Orlando, Florida, the kiosks provide fast, reliable temperature screenings allowing for peace of mind for attendees.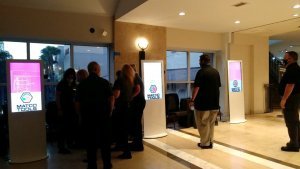 Contact-Free Temperature Screenings
The contactless temperature-checking kiosks and desktop units use thermal technology to identify elevated skin temperatures while maintaining social distancing. 
Fast, reliable, and touchless temperature screenings to identify individuals with elevated skin temperatures

 

Audible and visual alerts when an elevated temperature has been detected

Large display with the ability to include custom branding and embed a web page
Customized Solutions For Every Space
Available in various display sizes, the thermal temperature devices help create a positive experience while complying with regulations to help ensure the health and safety of all. 
Ability to use single or multiple units in one location or over various areas or regions

 

Real-time uploading of scanned data for transmission into a control room

 

Flexibility to upload thermography data for system integration

 

Real-time data monitoring and reporting, including the number of people scanned, verification of incidents where a temperature was elevated, and the logging of incidents

 

Custom-branded vinyl wrap for a personal touch (kiosk only)

 
Everything you need is available now.
Give us a call for more information on these kiosks or a custom occupancy solution.