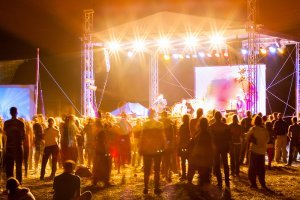 The goal of any presentation is to provide attendees with an engaging, informative, and enjoyable experience. When your event is being held outdoors, there are certain features to look for in a projector to ensure that your presentation is a success. Images produced by a projector that is equipped to work indoors in an environment with controlled lighting will look pale and milky on an outdoor screen. Therefore, a model that can produce enough brightness and contrast to overcome most light pollution will be ideal.
In addition, you'll need to consider the size of your audience and whether your content is image or data driven. When it comes to projecting detailed charts and graphs, text, and high-definition video, it's important to consider resolution. Resolution is the number of dots or pixels used to display an image. Higher resolution projectors use more pixels to create the image, resulting in a crisper, cleaner image.
Generally speaking, large-screen projectors need brighter bulbs because they have a larger area to fill. Projectors with higher lumen counts ensure that all attendees (including those seated all the way in the back!) are able to see presentation details clearly from all angles. For example, a 4500-lumen projector would be fine for a screen up to 10-feet wide, but for screens up to 12 feet wide, it would be wise to choose a projector with between 5000 to 7000 lumens.
Presenting to large audiences at night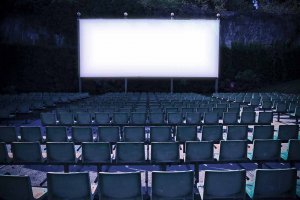 For large audiences, you may opt for a projector with high picture quality and brightness of 10,000 lumens or more. A WUXGA projector has a high pixel count (1920×1200 pixels) and 16:10 aspect ratio and the ability to transmit bright, high-definition content with stunning picture quality. Another good option for this environment would be a DLP laser projector with immersive picture quality and practical features. Such an audience and projector would call for a large screen that's 10-12 feet tall.
Presenting to small-to-midsized groups during the day
Small to medium-sized audiences typically do not demand a projector with as much brightness/lumens, nor a screen that's quite as large. However, since you'll have to compensate for sunlight, it would be smart to select a projector equipped with daylight capabilities, which can prevent the picture from washing out by sensing ambient light levels and adjusting the picture accordingly, ensuring crisp images even in brightly lit environments. In this case, you may want to pair the projector with a high-contrast gray screen with gains from 0.5 to 1.3. This type of screen can assist the projector in providing a better picture by further rejecting ambient light.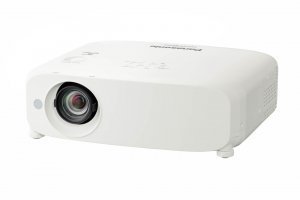 When you want to project full HD video to small audiences on big screens, a portable WUXGA LCD projector can help you deliver an outdoor presentation that packs a punch. Such a projector can be positioned almost anywhere because it is equipped with a zoom lens allowing for a variety of projection distances, and it works well for screens between 6-8 feet tall. For example, you can create an immersive viewing experience when delivering large-format presentations that are loaded with detail from distances between 8 to 13 feet.
Let the experts help you
When choosing a projector and screen for an outdoor event, it's a good idea to consult with an expert who can help you determine what's best for your unique needs. SmartSource has a large selection of projector and screen rentals that are ideal for outdoor presentations. Our skilled staff will help you determine which projector will ensure the optimal picture quality based on your audience, content, and other specifications.