Technology for the 2018-2019 Pilot Season
The pilot season is upon us. When the network gives you the green light, everything and everyone must quickly shift into gear. If you are a new production assistant, or this is your first pilot, the thought of ordering equipment may be a bit overwhelming.
We're here to help. There are two key areas to focus on — the accounting office and writers' room. Below is a list of equipment needed in each area. In addition to the hardware, it's vital to select the right provider. There are five things our clients have told us makes a difference, and we thought it might be valuable to you as you select a partner.
The Accounting Office: All the Technology Required to Keep the Books Balanced
This is the hub where all expenses are submitted and employees are paid. Because the pilot may run for only a few weeks, accountants rely on printing physical checks. Most offices have:
One or more desktop units preloaded with accounting software
Printers for daily budget reviews
MICR printers for checks
The Writers' Room: How to Give Your Creatives the Tech They Need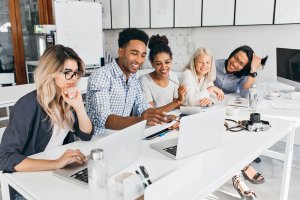 Just as the name implies, this is where the writers gather to hammer out upcoming episodes. They also make changes to existing scripts, sometimes on the fly.
Most rooms have:
The Smartsource® Difference
We've been serving the entertainment industry for over 30 years. Our customers shared with us the following reasons they continue to call us year after year:
We have service technicians exclusively dedicated to the entertainment industry.
Because we have a large presence in Southern California, along with nineteen other locations around the country, our staff knows what it takes to run a pilot season smoothly.
We can get you what you want, when you need it.
Our employees understand the immediacy of your needs. We aim to deliver and setup your order the same or next day. When we're onsite, our team works efficiently so we can turn our equipment over to you as soon as possible.
We will preload your software and protect your systems.
If you want your apps installed on the rental systems prior to delivery, we can do that. We make sure the operating system, apps and malware protection is up to date, before delivering any unit to you. Lastly, we routinely test and maintain all hardware, so you don't have malfunctions.
We have a thirty-year track record of success.
We've worked with the three major networks plus Fox, Showtime and HBO. As more networks come onto the scene, we are prepared to meet their needs also.
There are no long-term contracts.
Knowing your pilot program may go from three days to three months, we understand that you can't make a long commitment. That's okay with us.
Smartsource® Rental Has Your Pilot Program Covered
Our experienced entertainment sales staff provides a reliable and knowledgeable source for production assistants across the industry. Visit us at smartsourcerentals.com to learn about the value we bring to the television and movie production industry on a daily basis, around the country.