In supporting Financial Services Firms and Banking Institution event programs, we have found that creating an experience that captivates and inspires attendees has never been more critical. 
Digital displays and LED Walls have played an essential role in turning event foyers into an engaging space for all attendees with additions like video streaming, interactivity, and practical solutions such as charging stations and more comfortable furniture.
Below are some standout solutions that have garnered the attention of our clients.
RECHARGE ZONE 
Create a networking zone for your attendees to converse.
Adding an attendee conversational area and utilizing comfortable couches, instead of standard practical furniture, that invite your guests to recharge themselves and their devices immediately creates a more relaxing atmosphere and encourages people to stay for longer.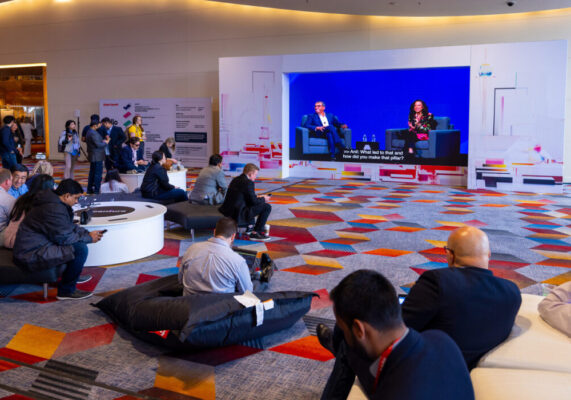 Attendees will never have to worry about low battery life with built-in charging ports conveniently located throughout the space. Give your attendees the comfort they deserve by creating a lounge that blends style, comfort, and function so they can carry on conversations at your event.
GET THE CONVERSATION FLOWING WITH DIGITAL SIGNAGE! 
Instead of resharing the same branded messages on all digital screens, add conversation starters to your digital signage screens to encourage attendees to use their time best.
Using screens in this way is helpful in guiding attendees to meeting room assignments and 1:1 locations as well as highlighting program details, speaker/host bios, and ever-evolving event information. You can update these displays in real-time and segment signs individually.
We work with our clients to help deliver thought-provoking digital signage solutions that are more than just arrows and times and more about setting the stage for conversation.
INFORMATIONAL KIOSKS
Professionals at your event are hungry to learn and help shape decisions that could grow their business. So, consider adding kiosks in key strategic areas around your event to accomplish that task by adding industry drivers that could indirectly help drive investments.
TRANSFORM YOUR REGISTRATION AREA AND PUBLIC SPACE TO INCREASE ENGAGEMENT
With subtle changes to your event, you extend your organization's engagement beyond meeting rooms.
The best way to find inspiration and enhance your next event is to contact our SmartSource team, who can help transform your event into a buzzing energy hub with guests interacting, learning, and connecting in new ways.