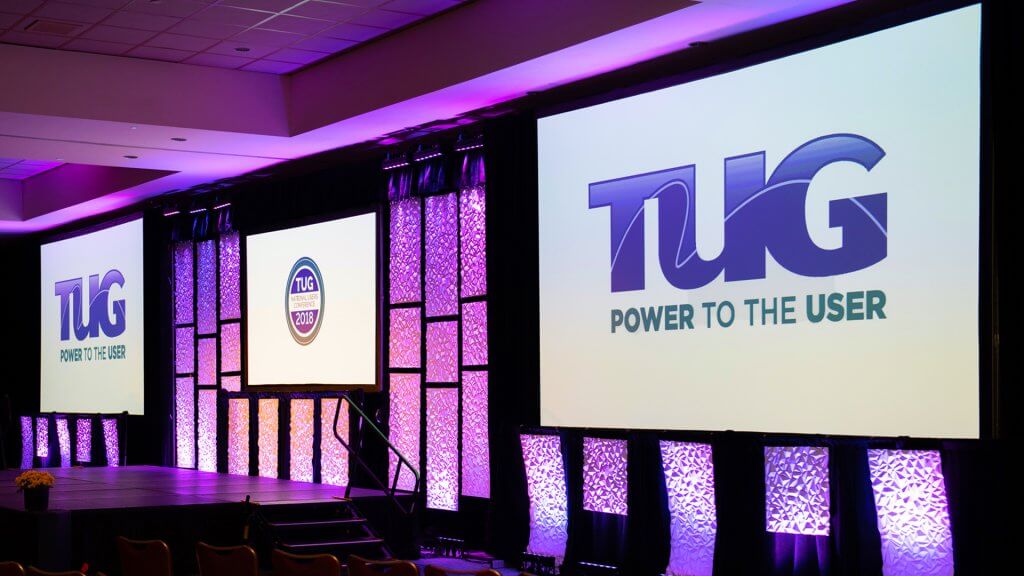 With so much focus put on preparing high-quality content for a presentation, and pairing it with the right projector to deliver that content in the most impactful, effective way, the projection screen often becomes an afterthought. However, the screen is a crucial element in ensuring a visually compelling presentation. Here's what you need to consider.
Venue & Audience Size
The size of your room will have a major impact on what screen you choose. For larger venues, you might opt for a screen that's 10-12 feet tall. But keep in mind that a screen of this size will require ceiling heights in excess of 15 feet, since it is recommended that the screen is at least 36 inches off the floor and a minimum of 24 inches from the ceiling. Another consideration is throw distance, which is the amount of space between the projector and the screen. Each projector model will have specific throw distance recommendations to allow for the projection of images that are crisp, clear, and appropriately sized.
Fast-Fold screens can be a great choice for larger venues and audiences, as they allow effective viewing of large-scale content.  If you are planning an event for several hundred or more attendees, a truss screen or custom video wall setup would be ideal. Look for a rental provider that can have technicians on-site for setup, support, and breakdown.
For small to medium-sized venues, you might opt for a screen that's 6-8 feet tall. A Tripod screen may be your best choice for small events of up to 100 people, as they are portable and provide flexibility in an event space.
Ambient Light
Lighting is also a contributing factor. As long as the room has full lighting control and very little ambient light, you can go with a standard gain white screen with gains from 1 to 1.4 for widest viewing areas. For venues in which you may not have the ability to block out all the room's ambient light, it would be smart to select a high-contrast gray screen with gains from 0.5 to 1.3. This type of screen can assist the projector in providing a better picture by further rejecting ambient light.
Aspect Ratio
The aspect ratio of a display screen is the proportional relationship between its width and height. The standard aspect ratio for high-definition widescreen format is 16:9, and the aspect ratio for the somewhat outdated standard-definition content is 4:3. The 1:1 aspect ratio is typically used for displaying data, while the CinemaScope aspect ratios of 2.35:1 and 2.40:1 are generally reserved for cinematic uses.
In order to avoid the appearance of black bars around the displayed content, you should match the size and shape of your screen to the aspect ratio of your content. While most projectors have variable aspect ratio settings, the pixel settings of a native format will ensure the best performance levels. If your content is in a non-standard aspect ratio, speak with your AV team about securing a custom screen size.
Your Projector
If your event calls for a large screen, you will likely need a projector with brighter bulbs to accommodate the larger display area. So for a 10-foot screen, it's a good idea to look into a 4200-4500 lumen projector. The larger the screen, the more lumens your projector will require to allow for adequate viewing by all attendees at your event.
Seek Expert Advice
This basic knowledge can help you gather the information you need in order to narrow down your projection screen options. It's best to consult with an expert like SmartSource Rentals who can help you determine which projector and screen rental will ensure the best picture quality at your event whether they are being used for general sessions, breakout rooms, boardrooms or conference rooms, trainings, or galas. If you are planning an outdoor event, stay tuned for our next blog post on choosing the right audio-visual equipment for festivals, banquets, sporting events, and other open-air setups.