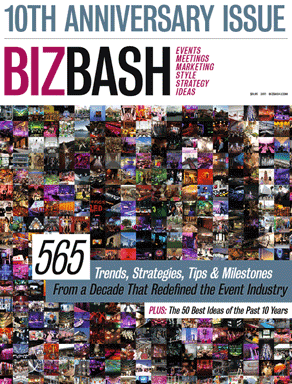 BizBash Magazine recently published an article titled "Ice Sculptures to iPads: A Brief History of 10 Years in the Event Industry."
Below are some of the highlights:
2001
September 11: The terrorist attacks were immediate and far-reaching for all event meeting services organizations, and probably had the biggest impact on the events industry. Here is a summary of what happened:
Many meetings and events were outright canceled due to poor registration numbers.
Meetings were postponed once or twice, creating havoc with hotels and convention centers.
Special events had a more toned down atmosphere, often adding a fund-raising element for the families of 9/11 victims.
Many hotels and conference services managers had to deal with room attrition and force majeure clauses. There was much discussion and negotiation over contract penalties.
2002

"One increasingly popular way to engage audience members at conferences is using interactive Q&A capabilities. When an emcee asks a question, audience members can use wireless audience response systems to key in answers." — from "Boosting Audience Participation"
"Planners are waiting longer to book events, " said Erica Morris, Director of Special Events at Marcus Samuelsson Group.
Rather than having everyone travel to one location, smaller regional meetings are held around the country.
2003
"More and more event planners are concentrating on another vital tool for creating an event's atmosphere: light equipment rentals. Once treated as an afterthought, professional lighting has become a required element for any event." — Planners Get Bright About Lights
The biggest challenge for event planners, from a BizBash survey of 950 readers said:
45% said Smaller Budgets
11% responded with Shrinking Lead Times
11% answered Convincing Others of the Importance of Events

Severe Acute Respiratory Syndrome (SARS) became a global health threat, impacting global travel.
2004
"When it comes to the state of current events, planners and vendors are full of optimism. The reason? After several years of special events sobriety and shrinking financial resources, big budgets appear to be on their way back." — Big Budgets are Back

"The line between corporate and private events is so blurred nowadays. Everyone's got something to sell and parties are the perfect way to market it," said Cara Kleinhaut, Owner/Founder & Experience Designer at Caravents, Inc.
2005
"More than a handful of New-York based planners have quit their jobs with companies to form their own businesses, they're part of a growing trend of entrepreneurs throughout the state and nation." — "On Their Own"

Regardless of their budgets, companies will keep holiday parties on the calendar.
2006
Battery powered light fixtures that include programmable LED that can change colors, operate via remote control, and last more than 8 hours is introduced by Levy Lighting.
"It used to be that companies kind of threw money at sponsorships. Companies have gotten more sophisticated and are actually establishing metrics to measure the success of a particular sponsorship, even before they sign a deal," said William Chipps, Senior Editor at IEG, LLC.
AV Event Solutions can provide you technology tools such as audience response rental units and creative lighting solutions. Contact them today to learn more!
Check out A Ten-Year Look Back at Major Meeting Industry Changes (Part 2) on Friday, November 11th to learn more about years 2007-2011.