Even with a rebounding economy, meeting and event planners are still looking for ways to reduce their event budgets. There are ways to possibly cut some corners within the budget, but AV shouldn't be one of them because so much is dependent on those interactive technology tool rentals.
All that being said, with a limited budget, here are the 3 things I recommend you keep or increase spending on within your budget for 2011.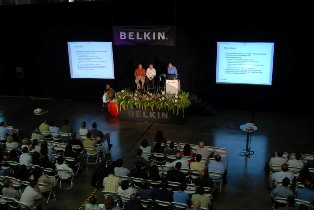 Powerpoint Presentation Equipment. I would suggest you rent the best laptop, LCD projector, and screen available at the time of your meeting. Having a projector and screen rental that has high lumens (preferably 5,000 or greater) and investing in a high quality screen that meets the needs of the meeting room and matches the brightness of the projector, is going to maximize the meeting experience for your attendees.
Sound System and Microphones. A great presentation and speaker is going to mean nothing if you don't have high-quality audiovisual rental equipment from sound system to microphones. Take a look at the room, number of audience members, and sound reverberation within the room. I suggest again, looking at the newest lavaliere microphone technology for the presenter and having sturdy and dependable wireless mics throughout the room. Have your event audio visual rental firm do a complete sound check before the speaker starts including a test of the wireless mics positioned around the room.
Keep the AV Tech on site during the event. To paraphrase the MasterCard commercial, having an Audio Visual Technician on-site (or better yet, in the room) is priceless. Renting from a quality firm, means the AV tech is certified, does a thorough testing of the equipment, has backup units in the truck, and can fix any problems easily. Sometimes, in order to contain costs, meeting planners will just have the AV company set up and tear down the equipment. Don't get caught in that situation, because if the speaker can't go on, or the video can't be played, or the audience can't hear the presentation, THAT is what the attendees will be talking about! Make your event seamless by keeping the tech on site, it will be worth the monies paid out.
AV Event Solutions, a California meeting equipment company, has state-of-the-art laptops, LCD projectors, screen rentals, microphones and of course, certified and quality AV Technicians.