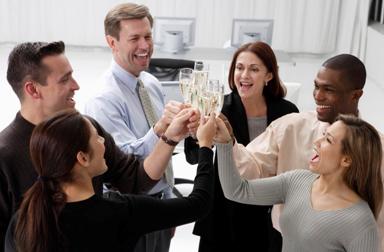 Your boss just entered the office to let you know that she expects you to plan a super-duper customer appreciation event between now and the end of the year. Since you have limited knowledge with this type of event, the task before you seems daunting. But it doesn't have to!
Here are 4 great tips to help you see your way clear and make everyone happy; most importantly your customers!
Tip #1: Establish a budget
If your boss did not give you a budget from the get go, march right back into her office and get one. And if you are an independent planner that has been hired by your client to orchestrate this event, you need to to do the same.
EVERYTHING is going to revolve around the budget. It doesn't have to be broken down line item by line item, but you need to have an overall budget and then some general idea of what they want to spend on the following:
Invitations
Food and Beverage
Meeting Space, if it is held off site
Decorations
Entertainment and
Tip #2: Tighten Up Your Invitation List
The organization has Tier I, II, and III clients and usually this delineation is reached based on the amount of money the customer spends with you in any given year. You don't have to be compelled to invite all client's to your party, but it is a good idea to know how many you are inviting.
Once the number of invitations is established, then you need to answer the following questions:
What level are they in the organization? CEO? Sales Manager?
What generation or generations are coming to the event?
What sex will predominately be in attendance?
What areas of the country will be represented?
Are you extending this invitation to spouses and significant others?
Understanding how many attendees will be invited and then what their demographic mix is, will help determine theming, entertainment, food, and networking games.
Tip #3: What to Serve and What to Do
Now that you know who is invited, where you are hosting the event, and you have established a theme, next it is important to figure out what you are going to serve and what sort of activities are going to be involved.
Let's say you are going to host the event at your location and you have decided on a Halloween theme. You will want to have all the food associated with Halloween, including candy. You might invite the customer's families so they can bob for apples and have a contest for the best costume. You can have your Powerpoint presentation equipment showing photos of the attendees after they arrived. Photo booths can be rented for impromptu photo shots. The point being is everything works with the theme and nothing works against it.
Tip #4: Get the Right Audio Visual Equipment
Spend time looking at your room set up to determine what you want and need.
Sound and lighting rentals
are going to be key so people can see any activity that is going on at the main stage, especially if you have hired entertainment. Consider having
LCD projector and screen rentals
secured for networking or icebreaker games.
When considering California event equipment, look no further than AV Event Solutions! They can help you make your customer appreciation event rock and create lasting memories for your attendees. Give them a call today!