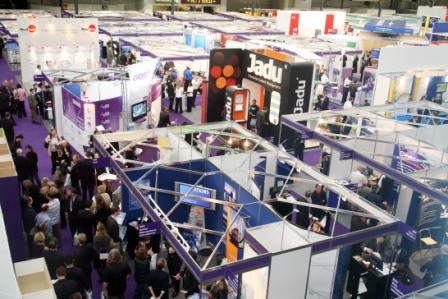 I have been following a
LinkedIn
discussion about how to increase traffic to a trade show booth for quite sometime now. As of today, there are 256 comments and it will probably continue to grow. Below, is a synopsis of many of the relevant comments as they relate to
renting audio visual equipment
.
Dan Wolan, Director of Business Development, Productions Plus — The Talent Shop, said "You've paid for the booth space, the graphics, the production, the premium incentives, the travel and hotel for your sales team. Now you need to ask yourself, "Does it make sense to skimp on my company's professional image?" Since 91% of visitors will be seeing your company's personnel for the first time, you need to make a good first impression."
So, that first impression…Does it start before or during the show? I think both. Please read on:
Colin Green, CTSM, and CEO of Best of Show, gave the following pre-show tips:
Utilize Social Media to hype the show and your booth location
Add Trade Show information to your website
eMail all clients and prospects and utilize eNewsletter as well
Send information about your booth and company to the show organizers. Ask them to include your information in their press kit to the media
Have information on the trade show and booth location playing on the "on-hold" message when people call in
Ensure every person is telling everyone about the trade show and inviting them to attend; this is from the CEO to the receptionist
If there are free tickets or low cost tickets, give them away
At the trade show, consider the use of
Kiosk Rentals or Touch Panel Kiosks.
Here are some suggestions for use:
Jim Staylor, Vice President of Marketing and Media at ALETUS Corporate Development said "Consider video. One of our clients just had us help them produce a funny video to be shown at the trade show's opening session. It entertains while clearly pointing out their booth location and promotes reasons to stop by. A well produced trade show video, playing at your booth, serves multiple purposes:
It draws in the right people,
Helps the wrong people self-select out of wasting your time,
"Babysits" lurkers until your booth staff can give them attention, and
answers questions and overcoming objections before you can even talk to them."
Another option for use can be the
iPad
on the trade show floor. The Apple iPad can be used for many things including video, photo display, portable kiosk, Social Media interaction, such as a
Twitter
feed being displayed on a
Plasma display rental
, and allowing the attendee to actually drive the interactivity of the demo.
Rosemary Oldham, Manager of Marketing Services at GAF Material Corporation added, "We do hands-on demos and make some noise. It attracts a crowd and ultimately attendees ask questions about our products in the booth."
If you are organizing a trade show or event planning in California, look no further than AV Event Solutions to provide your organization with computer kiosks, including touch panel kiosks. In addition, if you are going to rent iPads or iPad 2s, they have an ample supply of both for your next event.