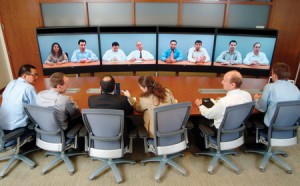 Hybrid events are useful in sharing all or part of a face-to-face event with attendees who cannot make it to your conference. Knowing there is an untapped group of participants that want and crave your information but for different reasons cannot make it to your event, a hybrid meeting is an optimal way to deliver content to a remote audience. .
Hybrid events are hot right now for the following reasons:
Attendees don't have to incur travel expenses in order to feel a part of the event;
Most individuals are becoming more familiar with technology and comfortable with it;
Greater competition is driving technology costs down and
Corporations are reducing travel costs.
However, hybrid events take some planning and are not free. According to BizBash Magazine, here is a synopsis of the production tips you need to keep in mind when producing a successful hybrid event and some of my own thoughts to enhance the process.
Tip #1: Focus on the meeting objectives and interactive technology tool rentals that make sense.
Determine the number of individuals that are going to be remotely connected to your event and then obtain the equipment that makes sense to include those attendees. Is the remote audience large enough to justify hybrid? Are you going to stream all sessions or just a few? Which ones?
Tip #2: Have a great communication plan.
With a hybrid event, you will be working with your event audio visual rental company, information technology team, webcasting provider, and virtual platform organization. With 4 different organizations involved, communication can get "lost in translation". Having a good project plan with responsibilities outlined and target completion dates, can keep everyone focused on working as a team.
Tip #3: Stream for all devices and test the stream.
Make sure the your webcasting vendor's streaming capabilities works on all mobile platforms, including Windows, iOS, and Android. This is important because the remote attendee may be using their smartphone, tablet, or desktop when viewing the session.
It is important also to test the stream at least a day in advance and 90-minutes before the session. Renting an encoder to compress the audio and video will help reduce buffering, but you also need to take into account the Internet activity going on in the live session.
Tip #4: Have enough bandwidth.
Internet bandwidth determines how much data can be transmitted at a time and at what speed. If you don't have the right amount of bandwidth, the remote audience will see low-quality video and/or experience a lot of buffering that will be frustrating to the participant. In addition, if you rent iPads for your physical participants, you need to take this into account as well.
Robust bandwidth is not a place to skimp and it requires an AV company that can accommodate multiple access points and take a look at the total needs of the conference. Also, remember if you are streaming 3 sessions at the same time, you will need to have 3 times the amount of bandwidth. Renting a Wi-Fi network array is an easy way to keep your bandwidth fast, secure, and robust.
Tip #5: Quality audio is paramount.
Weak sound or not being able to hear questions from the live audience, disengages the remote attendee. Having wireless microphones in strategic locations in the live session, allows the virtual audience to hear the questions and makes sure those questions are not remotely repeated.
If you are event planning in California, look no further than AV Event Solutions for all your technology needs. They offfer iPad rentals, Wi-Fi booster rental, and much, much more! Give them a call today!