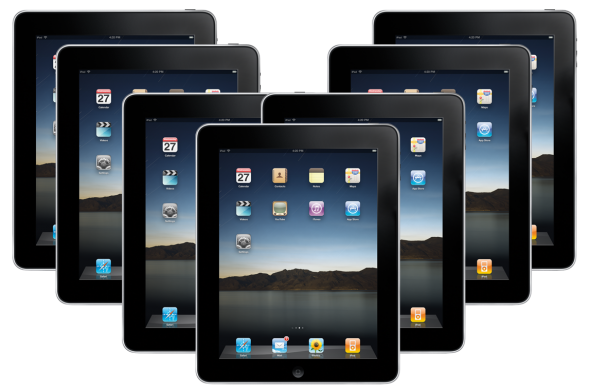 As you look at technology options for your next meeting or event, make certain you are not implementing "technology for technology's sake." Choosing the right interactive technology tool rentals requires 3 parameters: the right hardware device, the right apps, and the right attitude.
A good option may be to rent iPads which have been outpacing laptop growth and adaption over the last 12 months. But even though an iPad is the thing attendees may want, it is the event apps that will drive effective use of this mobile device.
Here are 5 questions to ask any application vendor when considering that app for your next conference, trade show, or meeting:
Question #1: Is it Simple?
A good litmus test of a simple application is to give an iPad to someone who is technology "challenged" and see if they can navigate their way through the app. If they can without frustration, great! If they ask you a lot of questions or don't know what to do next, the app is probably too complicated for your attendees.
Question #2: Is it Customizable?
Every meeting and event is a unique experience for your attendee. Can you customize the app to personalize it for your group? And probably, most important to you, how much is it going to cost to do so?
Question #3: Is it Innovative?
When choosing an app for your event, you want to bring the latest and greatest software enhancements to the attendees. How often does the vendor upgrade their software? On the other hand, you don't want to be on the "bleeding edge" and risk the app failing when you are trying to sync with 1,000 other individuals. Innovative and interactive should be high on your list — but with minimal risk to your organization.
Question #4: Is it Seamless?
Can the attendee easily navigate between this app and all other applications on their mobile device? If the app is web based, you will need to make certain the Wi-Fi network is solid. Attendees are not going to want to sign onto the Internet and wait and wait for the app to load and then, have difficulty getting back to the main navigational menu. Renting a Wi-Fi network array can solve many of your connectivity issues.
Question #5: Is it Responsive?
If you rent iPads, you know they are stable devices and relatively maintenance free. But what about the app? When you touch the icon, does it go right to the application page? And if it doesn't — what is the support plan to quickly fix the system?
Are you event planning in California? Look no further than AV Event Solutions for great deals on iPads and Wi-Fi boosters. Give them a call today at 888.249.4903 to learn more about their terrific offerings!