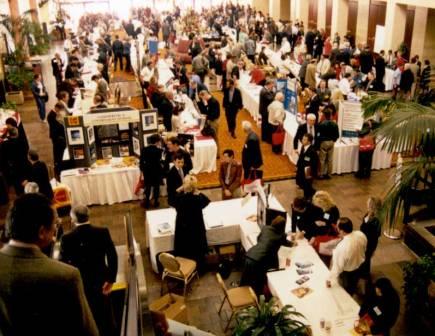 Are you considering exhibiting at a
trade show
? Need new ideas to make your booth extra special? The goals for your booth should be to:
Draw a crowd
Stand out from other exhibitors
Differentiate your company and
Generate more leads for your organization.
Below are 5 techniques you can utilize to improve your visibility at your next trade show.
Tip #1: Create a Plan Several Months in Advance.

Address or answer the following questions before giving serious consideration to exhibiting at the next show:
Why are you exhibiting at this specific trade show? What makes this one better than any of the others?
What is your defined marketing message?
Have a well-defined budget, including a line item for renting audio visual equipment.
Let the attendees know you will be exhibiting and what your grand prize will be if they stop by.
Instead of spending money on giveaways, consider popular prizes such as, an iPad2, gas card, or resort stay.
Tip #2: Find out About Location, Layout, and Traffic Flow of the Show.

Try and get your booth as close to where the traffic will enter. Find out if the attendees will enter in one or more entrances. Many times those key locations are signed on early and may cost more, but if the event is going to attract 10,000 people, it may well be worth it. Study the layout carefully and make certain you are very happy with the specific location. Lastly, the location and the city may be key to attendance. A first tier city at a great convention center will be a factor with your success.
Tip #3: Have Catchy Trade Show Video and Graphics.

There are some great ways to use interactive technology tool rentals to sell your products and services. Consider touch panel kiosk rentals that can run video, photos, contests, and allow attendees to enter their contact information. iPads are great portable kiosks and can easily be taken off their stands. Large screen HDTVs can allow attendees to see videos and social feeds.
Tip #4: Have Prepared, Knowledgeable, and Friendly Staff.
Make certain your staff knows your products and services inside out. Spend the time to properly train them and make certain they smile…a lot. Have staff that are naturally friendly and can carry on a conversation. It is vitally important that they can ask qualifying questions and follow-up with the prospects after the trade show.
Tip #5: Offer a Fantastic Grand Prize.

Forget the little key rings, bags, and pens. No one wants them or uses them to remember you or your company. Instead, get people over to your booth by offering them a chance to win something terrific…an iPad2, a $300 gas card, an all-expense trip to Cap Cod. Spend the time to research great prizes and poll your clients and staff. Most attendees will gladly share their contact information for a chance to win something great!
AV Event Solutions, your event rental services company, is available to assist you with any of your trade show booth needs, including kiosks, iPads, Plasma Screens, and sound and lighting rental. Give them a call today!