Okay, okay perhaps the title of this blog is stretching it a bit because we all know that mobile applications are changing and growing like a Califonia wildfire.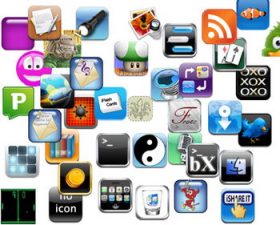 With
meeting apps
reaching over 1,000 applications this week, this blog assessment may be only as good as the time as it takes you to read it (hopefully not). Here are a few software suggestions event meeting services professionals may wish to consider, especially if you are going to
rent iPad
technology.
NOTETAKING
Simplenote is a free application that runs on an iPhone, iPad, and iPod Touch. This software allows the attendee to keep notes, lists, and ideas on the web and mobile device. There is an instant searching capablilty and you can share information with other users as well.
Evernote runs on the iPhone, iPad, iPod Touch, Android, Blackberry, Windows Mobile, and Palm Pre and it is also free. It allows the attendee to save their ideas and take notes.
MindNode is $5.99 per device and designed for the iPhone and iPad. It is an intuitive application that allows the user to collect and organize your thoughts and ideas as mind maps.
RECORDING
iTalk Lite is a free application that is simple to use and lets the meeting attendee start and stop recordings, choose the recording quality, and manage the list of recordings. It runs on iPhone and iPod touch. The user can email their recordings to their office computer or transfer via Wi-Fi.
INSTANT FEEDBACK/UPDATES
Twitter is a microblogging social media website that allows the conference services attendee to "tweet" information about the event, 140 characters at a time. It can also be used to communicate directly with the event services company about a problem, create a group, or reference a website or blog. Twitter is free and can run on any mobile device.
TweetDeck is a free program that runs on an iPad, iPhone, iPod Touch, Android, and Google Chrome. Not only can the user tweet about the event they can view and update Facebook directly, too. It is allows the attendee who has an iPad to view tweets in two or three columns and it fills the entire iPad screen.
NETWORKING
Dub, allows Blackberry, iPhone, and iPad Touch users to unify and manage all your contacts in a safe and secure way. This application is free and syncs a user's email address book, social media, and mobile contacts all in one place. You can also exchange cards via the smartphone. Dub automatically pulls new contacts from connected sources such as LinkedIn. In addition, the user can search and filter their new contacts.
LOCATION INFORMATION
Yelp is another free application that runs on a Blackberry, iPhone, iPod Touch, Android, Palm Pre, or Windows Phone. Yelp allows the event attendees to see real time reviews about restaurants, attractions, and hotels in the area. It also allows the attendee to write a review, read reviews and connect with friends.
AV Event Solutions, will work with event meeting planners to put together the best software solutions for your next conference. We rent iPads for large and small events in California. Give us a call!