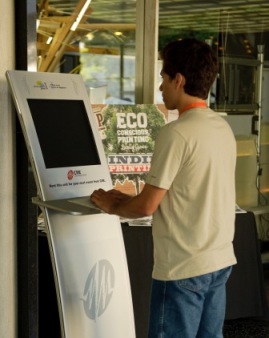 Innovative digital signage solutions are available on touch screen computer kiosks, which incorporate a screen and computer. They make sense in locations where conference services attendees can benefit from self-service information such as event agendas, city guides, or venue services.
These kiosks are versatile in that they can be added with many options which enable them to fulfill more them one role. Examples of optional extras are:
· Printer (Full or Micro Size)
· Keyboard
· Camera which can create photo strips, CDs, file sharing or slide shows
In addition, computer kiosk rentals can be connected to a variety of peripherals, including WiFi connection, allowing users a wider range of applications over the Internet, including the capability of checking their email.
Computer kiosks can be in a variety of locations including:
· Reception Areas
· Information or Registration Desks and/or
· Hotel, Conference, or Convention Venues
The benefits of the touch panel kiosk are immense as it can provide users with a fast and easy method of gaining information they require without having to wait in line for a person to answer the question whether it is what time a various session starts to where is a good place to eat.
The benefits of Digital Signage on computer kiosks are:
Improved Attendee Experience
As an event planner, you can put more information in one location. This information can be dynamic as the conference or event progresses. Touch screen kiosks allow for interactivity with the attendee and easy navigation to the information they want 24 hours a day.
Lower Costs
An event services company can distribute materials to the attendee with limited onsite assistance. There will be no printing or delivery of several hundred or perhaps thousands of agendas. Previous print sponsors can be re-purposed to digital signage at potentially the same cost but higher profit margin to you because there is no printing involved in program materials.
Increase Revenue
Conference services organizations can add new revenue stream from advertising because they are not limited to a finite number of sponsors. Because computer kiosks can now show video, as well as, photos there is an opportunity to increase sales on existing products or services especially in a tradeshow setting.
Increase Brand Awareness
For a product launching event, digital signage is more noticeable, allows for unique presentation of the brand and messaging, and video motion allows for trailers and teasers prior to the launch building up interest about the new product.
Reduce Wait Times
Computer kiosk rentals provide self-service registration or check-in capabilities and access to information from multiple location points within the venue without additional staffing and are available 24 hours a day.
Improve Communication
At a conference or event, providing current information to attendees is a key component to the success of the event. Touch screen kiosks provide information in an attractive form through the use of photos, color, and/or video. Because attendees can be receiving real time content, the information is more relevant to attendees and can be altered based on the time of day, weather, speakers, or other factors.
Looking for kiosk rentals? Contact AV Event Solutions, a California meeting equipment organization that can provide you with the kiosk technology that will make your meeting, special event, or convention stand out!