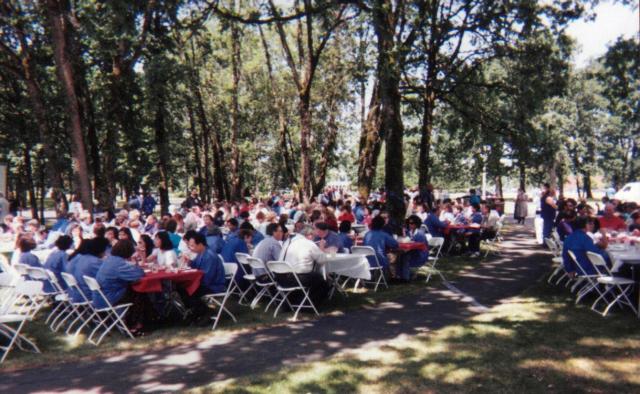 This is the time of year, many organizations start planning an employee gathering to celebrate summer or fall. This is a great way to meet each other on a social basis, as well as, informally integrate spouses and children into the work setting.
Here are a few tips to make this year's company outing successful without breaking the bank.
Develop a budget and get it approved by upper management. It is vitally important to get a bottom-line budget number approved before ordering food and sending out invitations. This doesn't have to be detailed, but the budget will be your guide for all decisions.

If the budget is tight, consider holding the event on company premises. Many companies have a wonderful outdoor campus that could be turned into a park or picnic environment. Understand all the ins and outs of the company setting and determine if the company location will work.

Again, if money is a concern, hold your event during the "off months". Most people think of company gatherings during July, August, or December. Think of holding it in one of the other months of the year. Many times, your attendance will rise because employees and their families will have less on their calendar.

Solicit ideas from employees. Based on your budget, put forth a list of ideas and have employees vote on those suggestions and feel free to add more ideas. Ask them if they want the event to be employees only, employees and spouses, or a family event and then go with the majority vote.

Hire a professional event meeting services company. Partnering with a professional will save money since they can negotiate the best deal on food, beverage, venue, renting audio visual equipment and many more things without you getting involved in the "nitty-gritty".

Have a variety of things for people to do. Do some employees like to karaoke? Dance? What about a rock climbing wall? Whatever the activity it is, make sure to rent the right equipment and set-up different stations at the event venue.

Consider having a non-alcoholic or low-alcoholic event. If the entire family is going to be invited, it is best to eliminate the risk that the under 21 crowd might get into the drink, by serving no alcohol. If it is employees and/or spouses only, consider giving out drink tickets and only having the bar open for a limited period of time. This reduces your risk of drunk driving, especially if the event is hosted on the company property.
Are you looking for corporate audio visual needs at your next outing, meeting, or conference? Look no further than AV Event Solutions — call or request rental quote today!