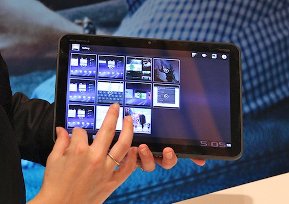 Its a brave new world for event planners with regards to mobile technology. More and more people are investing in smartphones, tablets and iPads. Lets explore some reasons why you may want to
rent tablet PCs
for your next meeting or conference.
Mobile Sponsorships are on the rise
Think about your sponsors and how much more effectively they can reach attendees if they can load video, photos, and success stories about their company on a tablet. It is so much more effective than print media, hands down.

Demand for tablet technology is significantly increasing
According to eMarketer, by the end of 2011, the iPad will have 80% of the tablet market share and all the others, combined, will hold a 20% share. Many event organizers rent iPads for attendees where in the past, it was either a paper-driven event or they rented laptop computers.

Mobile Optimization is now a reality
In the not so distant past, it was difficult to depend on Wi Fi and bandwidth to give the attendee a good experience with tablets. The video was constantly buffering and it took forever to connect to the Internet. Now, many venues have upgraded their network and the technology is getting better and better. Image retrieval, and accessibility are now consistently available at a high speed.

Tablets allow for social networking
Attendees can tweet about the conference, speaker, or try to find other attendees at the conference. They can connect via LinkedIn right from the meeting room. iPads even have an app for extreme networking. In addition, according to Blue Fountain Media, Americans spend 1 out of every 6 minutes using social media.

Location-based apps are becoming popular
Foursquare and Gowalla have experienced explosive growth in 2010. These applications allow attendees to check-in at their conference, find out who else has checked in, and check reviews regarding attractions and eateries at the host city location. Foursquare even allows attendees to play a game to see who can become the mayor of a particular location, such as the event or hotel.

Tablets give you a choice: Native app or to the Cloud?
For the main meeting applications, the event organizer has a choice to download the application to every tablet or give the attendee a user id and password and have them sign into the application via the Internet. While there are pros and cons to each, according to Geekwire, native apps promote better connectivity, engagement, and performance while cloud computing provides instant updates to the attendees but are Wi Fi and bandwidth dependent.

7. Attendees want Connectivity
Let's face it, if you don't rent tablet PCs, attendees are going to find a way to get access to the Internet and their Social Media accounts. They will use their smartphones, Internet cafe, or go up to their room and log onto their laptop. They want to feel connected to the conference, their work associates and company, and the world. If you don't give it to them, they will find a way.
AV Event Solutions, a California event services company, is well stocked with tablet PC rentals, iPad and iPad2 rentals for your next meeting, event, or trade show. Give them a call today!