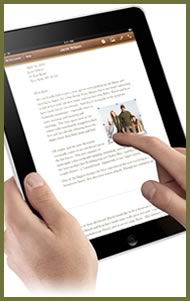 iPad Technology: Will It Work For Events? The short answer is yes! But I can see you need to be convinced…so below are eight great reasons you may want to rent iPads for your next event:
The iPad has a large screen allowing for bigger fonts which equates into easier readability for all types of attendees. This means conference guide and exhibitor guides can be on the iPad, making the event paperless.

Rent iPads and the Agendas, Calendars, and One-to-One Appointments are all in one place. The iPad creates personalized agendas for attendees, quick and easy access to conference schedules, including speaker bios, and presentation materials.

It can incorporate multimedia into every presentation by allowing multiple photos and video clips for the attendee to enjoy. Electronic Exhibitor guides can contain video demonstrations of products. Electronic Conference binders can contain speaker videos.

Rent iPads for maximum speaker interactivity. This technology allows attendees to enter real-time questions to the speaker directly. Attendees can see which questions are in queue thus avoiding duplicate questions. In addition, speakers can update presentation materials on the fly.

The Apple iPad allows you to take notes, further eliminating the need for paper. With built-in Wi-Fi connectivity, attendees can email their notes to a work or home computer allowing the conference services organization to eliminate the need for paper, thus being completely green and making the meeting green.

At ½ inch thick and weighing only 1.5 pounds, an iPad is completely portable. It is also a lot easier to carry around an event or conference than a laptop or binder.


Speakers, Sponsors, and Tradeshow Vendors can bring gaming to a whole new level. Companies and Speakers can create demos, games, or quizzes — getting attendees engaged.

Rent iPads and gain unlimited Sponsorship Opportunities. A sponsor can have their company logo on each Apple iPad. There can be commercials between sessions on each iPad. The sponsor of each breakout session could start and end each session with a commercial. The possibilities are endless.
Bottom Line
Rent iPads to change the way that attendees experience events. iPad's biggest impact on events will come from showing sponsors, exhibitors, speakers and event meeting services organizations a new way to use technology to gain the attention of your attendees. In addition, consider the cost and time of printing, shipping, and stuffing binders full of paper that attendees need to carry around from session to session. Wouldn't it be a lot easier just to hand them an iPad?
Rent iPads from AV Event Solutions to amp up your product launching events, meetings, and tradeshows.