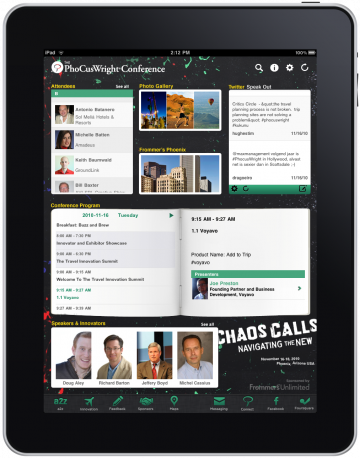 When 2,500 owners came together for the 2010 Hilton Worldwide Global Partnership Conference in October, event meeting services organizers wanted to make a statement. This would be the first time that every brand from every location would be at the same place at the same time.
Josh Weiss, Hilton Worldwide's Vice President of Guest Services, said, "How can we drive home that we are innovative; that we are different? Not just innovative in a flashy way, but innovative that brings real tangible value to the people we do business with us."
Few things say innovation like an Apple iPad. 3 months before the conference, executives decided they would give 16GB WiFi iPads to all the attendees preloaded with 2 applications.
Quickmobile was the first event application and it gave attendees the following information:
The meeting schedule
A personal agenda builder for breakout sessions
An attendee roster, with an instant messaging option
Speaker bios
Handouts
Satisfaction surveys and
Daily conference photos and videos.
Quickmobile CEO Patrick Payne has experienced an increase in the number of corporations that
rent iPads
for all the attendees. "The iPad," said Payne, "brings a new level of interactivity to a meeting, especially in terms of taking notes and messaging."
Intelity, a virtual concierge system, was the second application. This application allowed attendees to see and do the following:
Room-service menus and order from them
Spa and fitness information and make appointments
Ask for their car from the valet parking service
View other transportation options
Maps
Book golf tee times
"If someone wanted dinner, they could look at the images of the food, add it to their cart, check out, and the food would arrive at their room, just as if they'd picked up the phone and ordered it," Weiss said.
When attendees arrived at the event, Hilton conference services employees scanned a bar code on the attendee's badge, retrieved an iPad, and took the attendee's photo. A quick refresh of the system showed the attendee's picture within minutes of them arriving. A team of experts from Apple, Hilton, and Quickmobile were right at registration area to teach the attendee about the new system and answer any questions they might have.
Hilton offset the cost of the iPad and application software with sponsor support. Platinum sponsors such as AT&T and IBM we allowed to add an application to each iPad.
"The fact that we had companies like AT&T, IBM, Apple, Microsoft, Accenture, and Tata as partners certainly helped us pull this off," Weiss said. "Think about the cost of some traditional ways of doing meetings — the paper, the printing, and the time — these types of technology should be considered for any event."
Want to rent iPads for your next conference or event? Look no further than AV Event Solutions, an interactive technology tool rentals firm to support you with your iPad rental needs.